Pseudoexfoliation syndrome, a systemic disorder with ocular manifestations
Received: 25 June 2012
Accepted: 28 June 2012
Published: 10 October 2012
Abstract
Pseudoexfoliation syndrome (PXS) is a systemic condition with eye manifestations. In the eye, pseudoexfoliation material deposits on various structures of the anterior segment. The nature of this material is mostly fibrillar with fibers made up of microfibrils and coated with amorphous material. The composition of these fibrils is diverse and includes basement membrane components as well as enzymes involved in extracellular matrix maintenance. Pseudoexfoliation is the most common cause of secondary open-angle glaucoma (pseudoexfoliation glaucoma, PXG) worldwide. The goal of this review is to summarize our knowledge on the genetics of this systemic disorder and its resultant ocular manifestations. PXS familial aggregation suggests genetic inheritance. PXS has been strongly associated with single nucleotide polymorphisms (SNPs) of the lysyl oxidase-like 1 (LOXL1) gene on chromosome 15q24.1. Two of these SNPs confer a higher than 99% population attributable risk for PXS and PXG in the Nordic population; however, they carry different risks in different populations. The high risk haplotypes also vary among different populations. LOXL1 is one of group of the enzymes involved in the cross-linking of collagen and elastin in the extracellular matrix. Its function in connective tissue maintenance has been confirmed in mice; however, its actual role in PXS remains unclear. Contactin-associated protein-like 2 also has a strong genetic association with PXS in a German cohort and is an attractive candidate molecule. It encodes for a protein involved in potassium channel trafficking. Other candidate genes linked to PXS include lysosomal trafficking regulator, clusterin, adenosine receptors, matrix metalloproteinase-1 (MMP1), and glutathione transferase. These genes may be modifying genes for development of PXS and PXG.
Keywords
Pseudoexfoliation syndromeGlaucomaGeneticsLOXL1Exfoliation
Definition
Pseudoexfoliation syndrome (PXS) is a complex systemic disorder of the extracellular matrix primarily affecting the eye and visceral organs [1]. Pseudoexfoliation material (PXM) deposits around blood vessels of connective tissue. It has been identified by electron microscopy [2, 3] and immunohistochemistry [4] in the lung, liver, kidney, gall bladder, and cerebral meninges. Cardio and cerebrovascular disease such as angina, aortic aneurysm, and dementia have been linked to PXS [5–7]; however, this association remains controversial [8].
Ocular manifestations
In the eye, pseudoexfoliation syndrome is characterized by the deposition of fibrillar material that can be found on all anterior segment structures bathed by aqueous humor. PXM can be observed
in vivo
during slit lamp examination. It appears as 'dandruff-like' material in the anterior chamber or most characteristically on the anterior lens capsule deposited in a double concentric ring pattern (Figure
1
). The rings are separated by a clear zone presumably created because of the movement of the iris on the anterior lens surface. The central ring is located at the area of the iris sphincter, while the peripheral ring is only visible after pupil dilation. PXM is also often observed by slit lamp examination at the pupillary margin (Figure
2
), on the lens zonules and on the trabecular meshwork. The site of production of this material which is a complex of various glycoproteins is unclear, but PXM can potentially originate from the iris, lens epithelium, ciliary body, or the trabecular meshwork [
1
].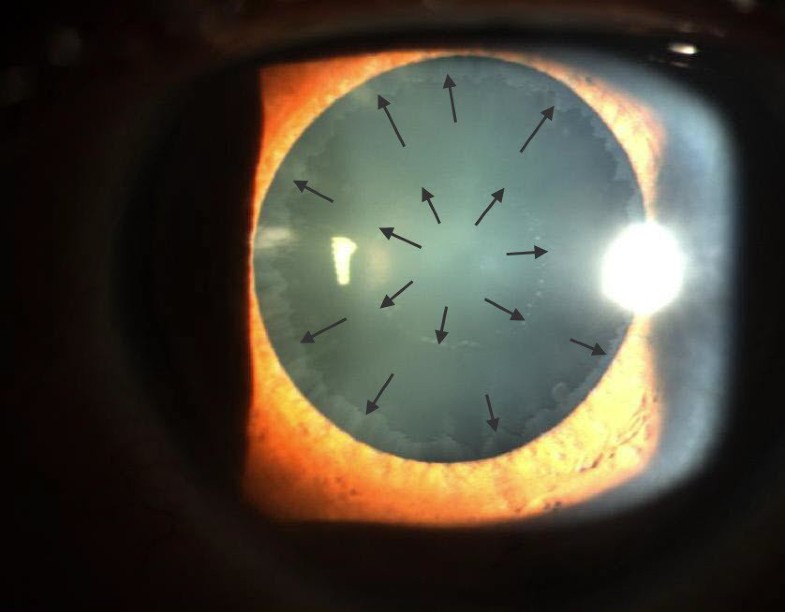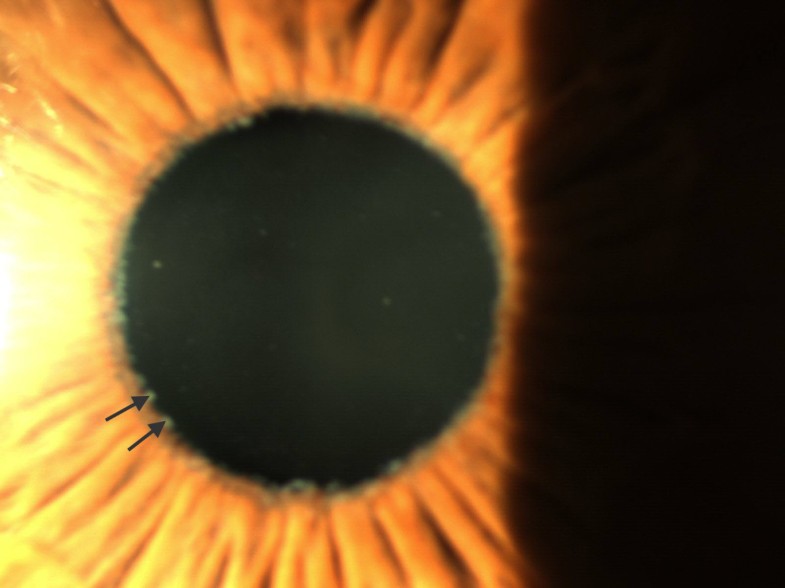 Ocular manifestations of PXS include iris depigmentation leading to peripupillary transillumination defects, mild trabecular meshwork hyperpigmenation, secondary open-angle glaucoma, and phacodonesis or lens subluxation caused by zonular dehiscence. Loss of lens zonular support makes intraocular surgeries challenging with the potential for vitreous loss, lens subluxation, or even lens dislocation [9].
Although the ocular findings of PXS have been described more than 80 years ago [10], the exact pathophysiology of PXS is still obscure. Significant advances in our understanding, however, have been made in recent decades. This era of increased understanding starts with a hypothesis put forward by Barbara Streeten et al. [3], who suggested that PXS is a form of elastosis resulting from the overproduction of elastic microfibrillar components such as fibrillin-1 [11]. Further evidence that fibrillin overproduction or over aggregation may be causative for the formation of PXM came from the work of Schlotzer et al. who detected an increased extracellular deposition of fibrillin-containing fibrils in PXS [12].
PXM pathology and nature
Transmission electron microscopy studies have confirmed that PXM is fibrillar in nature. Fibrils are composed of microfibrils, each 8 to 10 nm in diameter that undergoes lateral aggregation to produce complete PXM fibrils [11]. The PXM fibrils also have a coating of electron-dense amorphous material which often conceals the microfibrillar nature [11].
Immunohistochemical findings have suggested that PXM fibrils contain components of the elastic fiber and basement membrane system, such as elastin, tropoelastin, amyloid P, vitronectin, fibronectin, heparan sulfate proteoglycan, fibrillin-1, microfibril-associated glycoprotein, emilin, and latent transforming growth factor β binding proteins (LTBP-1 and LTBP-2) [11]. Liquid chromatography coupled with tandem mass spectrometry has confirmed the presence of fibrillin-1, fibulin-2, vitronectin, and amyloid P-component. In addition, it allowed the identification of the basement membrane components laminin, serum amyloid protein and fibronectin, desmosomal cadherins (desmocolin-2), the proteoglycans syndecan-3, and versican metalloproteases of the 'A Disintegrin and Metalloprotease' (ADAM) family (ADAMTS-8, 18, and 19), tissue inhibitors of metalloprotinases (TIMP3) the extracellular chaperone clusterin, and complement factor 1q (C1q) as components of PXM microfibrils [13].
It is unclear whether PXM accumulates due to excessive synthesis or inadequate breakdown. Elastic microfibril components, such as fibrillin-1, as well as other components of PXM such as LTBP-1 and LTBP-2 and the enzyme transglutaminase 2 were found to be upregulated at both the mRNA and protein levels in tissues of the anterior segment of the eye, where PXM can often be seen, suggesting excessive de novo synthesis as the cause [14]. However, an observed [15–17] imbalance between matrix metalloproteinases (MMPs) and their tissue inhibitors of metalloproteinases supports the possibility of improper PXM degradation. It is likely that PXM accumulation is a result of a combination of both excessive synthesis and insufficient degradation.
Ocular complications of PXS
Pseudoexfoliation is the most common identifiable cause of open-angle glaucoma (OAG) [1]. In the Blue Mountain study (BMES) [18] performed on an Australian population of European origin, patients with PXS in either eye have a two to threefold higher risk of OAG, while eyes with PXS had fivefold increased risk for OAG even though OAG was often associated with only modest increase in intraocular pressure. The eye-specific in addition to patient-specific risk indicates the involvement of PXM in the development of OAG [18]. Retinal and optic nerve head pathology of pseudoexfoliation glaucoma (PXG) is considered to be similar if not identical to that of primary open-angle glaucoma (POAG). Axonal loss is seen in both; however, patients with PXG seem to have smaller decrease in capillary density compared with patients with POAG [19].
PXS demographics
Pseudoexfoliation syndrome is a late onset condition with prevalence that increases markedly with age. In a Finnish population, its prevalence reached 33% among those aged 80 to 89 years. In Iceland the prevalence is 17.7% in patients aged 70 to 79 years and reached up to 40.6% in patients aged above 80 [20] years. PXS was also found to be generally more prevalent in men than in women [21]; this gender association though is not always reproducible [20]. The incidence of PXS roughly doubles each decade of life after the age of 50 [22] years. In Japan the incidence of PXS increased with age from 0.7% in ages 50 to 60 years to 7.3% in ages over 80 [22] years.
PXS as a potential genetic disease
The association between human leukocyte antigen (HLA) and pseudoexfoliation suggests at least a genetic component to the inheritance of pseudoexfoliation syndrome [23].
The inheritance nature, however, has been difficult to determine because of late onset and the often asymptomatic nature of the process. Aggregation of the disease within families pointed to autosomal dominance inheritance [18]. Other inheritance patterns such as X-linked [24], maternal [25], and autosomal-recessive have also been suggested [26].
PXS-associated genes and candidate molecules
Genome wide scan from one large pedigree suggested 18q12.1-21.33 as a promising locus. Other chromosomes that showed positive linkage were chromosomes 2, 17, and 19 but these overlapped with previously detected loci for POAG [27].
Gene-environment interactions
Although familial aggregation, HLA and polymorphic marker association and geographical clustering suggest a genetic nature of PXS; environmental factors have been also suggested to play a role in the natural history of the disease [70].
The effect of ultraviolet (UV) light has been investigated, as PXS is more prevalent in populations with relatively high UV exposure [70, 71].
Other environmental factors that have been proposed to participate in the pathogenesis of PXS are slow virus infection [72] and autoimmunity [73]. The report of the occurrence of PXS in relatively young patients after keratoplasty suggests the transmission of the disease from donor to the recipient. However, this cannot be considered proof, as development of PXS can also be the result of trauma or endothelial cell proliferation in the recipient eye [70, 74]. Multiple case reports of young patients developing PXS after cataract surgery suggest that anterior segment trauma may be a predisposing factor in PXS development [75, 76].
Summary
Pseudoexfoliation syndrome is the systemic disorder with characteristic eye manifestations. It is the cause of one of the secondary open-angle glaucomas. Evidence suggests a strong genetic component to this condition (Table
1
). To date a number of genes have been linked to PXS, of which LOXL1 appears to be the most relevant in many populations (Table
2
). Recently, GST and CTNTAP2 genes were also found to be highly associated in some populations. Other candidate genes such as adenosine and clusterin, TNF-α, blood group type B show weaker associations but may contribute to the phenotype as modifying genes (Table
3
).
Table 1
PXS-associated genes and associated polymorphic markers
PXS associated gene

Chromosome

Associated polymorphic marker

15q24.1

rs2165241

rs3825942

rs1048661

Clusterin gene [14]

8p21

rs3087554

1p13.3

M0 and T0 genotype

CNTNAP2 gene [58]

7q35

rs2107856

rs2141388

6p21

rs1800629

rs361525

Blood group B [68]

9q34
Table 2
LOXL 1 SNPs high risk allele frequencies in different populations
Population

Group

Cohort size

rs3825942 G

Odds ratio (OR)

Pvalue

rs1048661 G

Odds ratio (OR)

Pvalue

Reference

Allele frequency

Allele frequency

Iceland

Control

14,474

0.847

0.651

[28]

PXS

55

0.982

10.10 (4.02 – 25.36)

8.5 × 10−7

0.789

2.02 (1.32 – 3.09)

1.3 × 10−3

PXG

75

0.987

13.23 (5.59 – 31.29)

4. × 10−9

0.827

2.56 (1.74 – 3.77)

1.8 × 10−6

Sweden

Control

198

0.879

68

[28]

PXS

NA

NA

NA

PXG

199

0.995

27.28 (11.44 – 65.07)

9.1 × 10−14

0.834

2.39 (1.72 – 3.34)

2.7 × 10−7

USA

Control

235

0.844

0.665

[34]

PXS

NA

NA

PXG

50

0.939

3.05(1.20 – 7.76)

0.0194

0.787

1.86(1.10, 3.15)

0.0222

India

Control

97

0.74

0.63

[30]

PXS and PXG

52

0.92

0.0001

0.72

0.156

Japan

Control

172

0.863

0.503*

PXS

103

0.985

10.71 (3.29 – 34.87)

1.49 *10−7

0.932*

13.56 (7.57 – 24.27)

3.39 *10−28

[29]

PXG

106

0.986

11.02 (3.39 – 35.9)

1.40 *10−7

0.962*

25.21 (12.06 – 52.69)

1.44* 10−34

Chinese

Control

171

0.918

0.444

PXS and PXG

62

0.992

1.92 (1.25 – 2.96)

0.0034

0.524

1.92 (1.25 – 2.96)

0.0034

[77]

German

Control

348

0.857

0.644

PXS

206

0.948

3.06 (1.87 – 4.99)

3.15 *10−6

0.787

2.04 (1.54 – 2.71)

7.08 * 10−7

[78]

PXG

311

0.953

3.41 (2.22 – 5.24)

4.78 *10−9

0.839

2.89 (2.21 – 3.77)

1.40 *10−15

Italian

Control

70

0.821

0.693

PXS

76

1.000

∞

5.08 *10−8

0.842

2.36 (1.34 – 4.16)

0.0024

[78]

PXG

133

1.000

∞

1.96 *10−12

0.815

1.96 (1.22 – 3.15)

0.0053

Australian

Control

86

0.84

0.66

PXS

335

0.95

3.81 (1.88 – 9.02)

7.83*10−5

0.78

1.86 (1.27 – 2.76)

8.49*10−4

[79]

PXG

NA

NA

Saudi

Control

101

0.817

0.762

[80]

PXS

NA

NA

NA

PXG

93

0.968

0.000005

0.876

0.0056
Table 3
Molecules related to PXS, function, and nature of association
Molecules related to PXS

Known function

Nature of association

Copper-dependent monoamine oxidase secreted by fibrogenic cells. Catalyzes covalent cross-linking of collagen and elastin in ECM formation

-Gene polymorphisms linked to PXS in multiple studies

-Protein present at site of pathology

Clusterin [14]

Clearance of cellular debris and apoptosis

-Clusterin deficiency associated with PXS.

-Clusterin present in PXM deposits

Homocysteine and human cell metabolic enzymes (MTHFR MTR, MTRR, MTHFD1, CBS) [46, 47]

Amino acids that participate in multiple metabolic processes.

Increased plasma levels associated with PXS

It conjugates those toxic products with glutathione, protecting cells from oxidative damage

-Linkage of null genotype of the GST gene with PXS

Regulation of potassium channels at neuron membranes. Possible role in membrane stabilization

-CNTNAP2 gene polymorphism associated with PXS

Extracellular matrix maintenance

-MMP1 gene polymorphism associated with PXS

Adenosine receptors [45]

Adenosine regulates aqueous humor secretion. Intraocular pressure are regulated through adenosine receptors

-A3 receptor mRNA and protein selectively up regulated in eyes with PXS

TNF-α [65]

Has dual action depending on the type of receptor activated.

-Increased expression of TNF-α shifts the balance and activates the low affinity TNF-R1 receptor leading to cell death

High affinity TNF-R2 receptor has neuroprotective function while low affinity TNF-R1 receptors activation leads to cell death.
Grant support
This study was supported by NEI grants R01 EY15224, EY20670 and an unrestricted grant from Research to Prevent Blindness.
Authors' Affiliations
(1)
Department of Ophthalmology, SUNY Downstate Medical Center, Brooklyn, USA
(2)
Department of Ophthalmology, Mount Sinai Medical Center, New York, USA
Copyright
© Elhawy et al.; licensee BioMed Central Ltd. 2012
This article is published under license to BioMed Central Ltd. This is an Open Access article distributed under the terms of the Creative Commons Attribution License (http://creativecommons.org/licenses/by/2.0), which permits unrestricted use, distribution, and reproduction in any medium, provided the original work is properly cited.