Primary research

Open Access
Genome-wide analysis of the human Alu Yb-lineage
Received: 10 December 2003
Accepted: 10 December 2003
Published: 1 March 2004
Abstract
The Alu Yb-lineage is a 'young' primarily human-specific group of short interspersed element (SINE) subfamilies that have integrated throughout the human genome. In this study, we have computationally screened the draft sequence of the human genome for Alu Yb-lineage subfamily members present on autosomal chromosomes. A total of 1,733 Yb Alu subfamily members have integrated into human autosomes. The average ages of Yb-lineage subfamilies, Yb7, Yb8 and Yb9, are estimated as 4.81, 2.39 and 2.32 million years, respectively. In order to determine the contribution of the Alu Yb-lineage to human genomic diversity, 1,202 loci were analysed using polymerase chain reaction (PCR)-based assays, which amplify the genomic regions containing individual Yb-lineage subfamily members. Approximately 20 per cent of the Yb-lineage Alu elements are polymorphic for insertion presence/absence in the human genome. Fewer than 0.5 per cent of the Yb loci also demonstrate insertions at orthologous positions in non-human primate genomes. Genomic sequencing of these unusual loci demonstrates that each of the orthologous loci from non-human primate genomes contains older Y, Sg and Sx Alu family members that have been altered, through various mechanisms, into Yb8 sequences. These data suggest that Alu Yb-lineage subfamily members are largely restricted to the human genome. The high copy number, level of insertion polymorphism and estimated age indicate that members of the Alu Yb elements will be useful in a wide range of genetic analyses.
Keywords
mobile elementsSINEs
Introduction
Short interspersed elements (SINEs) are a class of retroele-ments that are typically less than 500 nucleotides long and lack open reading frames (ORFs) [1–5]. Alu elements are dimeric, primate-specific SINEs that have reached a copy number in excess of one million in the human genome [6]. Alu elements have reached this copy number via an RNA-mediated retroposition process that is dependent on the recruitment of an Line-1 (L1) protein possessing both reverse transcriptase and endonuclease activity [7–9]. Amplification of Alu subfamilies is thought to occur from a limited number of 'master' or 'source' genes that are retropositionally compe-tent [10, 11]. New Alu subfamilies are created when mutations occur in the source or master gene sequence and subsequently give rise to new lineages of elements that share the novel diagnostic mutation(s). Various Alu element subfamilies have dispersed throughout primate genomes at different time periods giving rise to a hierarchical series of elements that are of different genetic ages [12]. Since Alu elements first appeared in the primate genome, their amplification rate has fluctuated and is thought to be currently 100-fold slower than the peak rate 40 million years ago [13, 14].
The Yb-lineage, consisting of Yb7, Yb8 and Yb9, is the second largest 'young' group of evolutionarily-related
Alu
subfamilies in the human genome. In this study, the authors searched available genomic databases to annotate all
Alu
Yb elements present in the draft sequence of the human autosomal genome. In addition, a screen of diverse human genomes was conducted to identify those Yb elements that are polymorphic within the human population. In this paper, the authors determine the average age, genomic distribution and human diversity of 1,733 autosomal
Alu
Yb elements (see Figure
1
).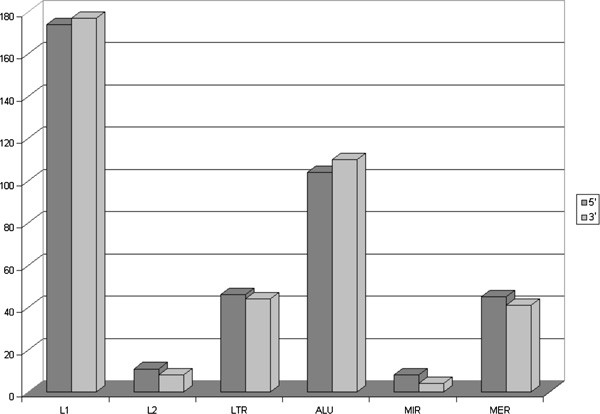 Discussion
In this study, the authors expand on previously published data to include all human genomic loci containing Yb-lineage Alu elements. Two previously published datasets included annotations of 118 Yb elements on the sex chromosomes and 244 Yb elements on the autosomes [15, 21]. The analysis has recovered 1,489 unique Alu Yb loci, making a total of 1,851 Yb-lineage elements that have now been annotated in the human genome draft sequence (Table 1). The number of Yb-lineage Alu elements recovered from the draft sequence is in good agreement with previously published estimates of subfamily size [15, 35–37]. Also 1,307 Yb-lineage loci have been analysed via PCR-based assays on the autosomes and sex chromosomes [15, 21].
The overall proportion of Alu insertion polymorphisms for Yb-lineage subfamilies in human populations was 20 per cent. Based on all 1,851 annotated Yb elements, if one assumes that the insertion polymorphism rate for the entire Yb-lineage is 20 per cent, one would expect to see approximately 370 Yb polymorphic Alu repeats. To date, 247 Yb Alu insertion polymorphisms (239 autosomal and eight sex chromosome) have been recovered. There are numerous reasons for the difference between the observed and expected numbers of polymorphic Yb insertions that have been recovered.
The present study only recovered those polymorphic Alu Yb-lineage elements that have inserted alleles present in the genomes of the few individuals whose DNA constitutes the human genome draft sequence. As a consequence, a fraction of the polymorphic Alu insertion loci, typically those of low insertion frequencies, will not be identified through computational screening of the draft human genomic sequence. In addition, a number of polymorphisms may have been missed as a result of researchers' inability to examine them using PCR assays because they inserted in paralogous loci. Some of the Yb elements were not amenable to PCR because they had inserted into other, pre-existing repetitive elements in the genome, or simply did not amplify in the PCR analysis.
The emergence of separate Yb-lineage subfamilies is the result of an accumulation of diagnostic mutations occurring within source genes over the course of primate evolution. The total number of Alu subfamily members differs greatly between the Yb7, Yb8 and Yb9 subfamilies. Subfamilies Yb7 and Yb9 contain 158 and 63 subfamily members, respectively. The Yb8 subfamily comprises 994 elements, which is approximately 56 per cent of the entire Yb-lineage. There are multiple scenarios that could account for the observed unequal copy numbers. There could have been a higher rate of amplification for the Yb8 subfamily with respect to the Alu Yb7 and Alu Yb9 families. Alternatively, the Yb8 source gene may have simply been active for a much longer period of time than the Yb7 and Yb9 sources. As the Yb7 subfamily is demonstrably older, however, it is more likely that it has been less transpositionally active or that it mutated early on to become the Yb8 source gene. The relatively young age estimate for the Alu Yb9 subfamily suggests it is more recent in origin, a fact that could also account for its lower copy number.
The Yb8 subfamily makes up over 50 per cent of the Yb-lineage Alu elements. Because the Yb8 subfamily provides the largest dataset, the authors used non-CpG-based and CpG-based average age estimates to calculate the number of Alu repeats that should be present at orthologous loci in non-human primates. Assuming that the Yb Alu elements had a linear rate of amplification, the age of the oldest individual Yb Alu repeats can be calculated as twice the average subfamily age. The average age calculated using non-CpG and CpG mutations was calculated to be 2.39 and 1.57 million years, respectively. In this study, the non-CpG-based age estimate indicates that the oldest Alu Yb8 subfamily members integrated into the primate lineage approximately 4.78 (2.39 × 2) million years ago. This is near the time of the human and African ape divergence, which is thought to have occurred 4-6 million years ago. Assuming that humans and chimpanzees diverged 4 million years ago, our non-CpG age estimate of 4.78 million years for the Yb subfamily would lead us to expect that roughly 16 per cent of Alu Yb8 insertions would be present at non-human primate loci; however, no authentic orthologous Yb insertions have been recovered. This suggests that either the 4 million year date of the human-chimpanzee divergence is too recent, or that the authors' age estimate is too old. The CpG-based age estimates, however, place the oldest Yb Alu elements at 3.14 (1.57 × 2) million years old. This is subsequent to the generally accepted time range of human-African ape divergence, so one should expect to see no Yb8 elements in non-human primate genomes. This result is in good agreement with current data [18, 36, 38–43]. The disparities between the CpG- and non-CpG-based subfamily age estimates are appreciable and systematic. They may be attributable to a number of factors. The well-established distribution of Alu elements within genic regions may affect their susceptibility to CpG-based methyl-ation, resulting in an altered mutation density. Alternatively, ongoing sequence exchanges between non-homologous Alu elements may also contribute to deviations from published values. Further examination of the CpG methylation rates in retroposons, which take into account genomic location, rates of gene conversion and additional factors, will be necessary in order better to address the observed differences in mutation densities.
Declarations
Acknowledgements
This research was supported by the Louisiana Board of Regents Millennium Trust Health Excellence Fund HEF (2000-05)-05, (2000-05)-01 and (2001-06)-02 (MAB); National Science Foundation grants BCS-0218338 (MAB) and BCS-0218370 (LBJ) and National Institutes of Health RO1 GM59290 (M.A.B. and L.B.J.).
Authors' Affiliations
(1)
Department of Biological Sciences, Biological Computation and Visualization Center, Louisiana State University, Baton Rouge, USA
(2)
Department of Anatomy, Faculty of Medicine, Suez Canal University, Ismailia, Egypt
(3)
Department of Pathology, Louisiana State University Health Sciences Center, New Orleans, USA
(4)
Department of Human Genetics, University of Utah Health Sciences Center, Salt Lake City, USA
Copyright
© Henry Stewart Publications 2004