Approaches to analyse dynamic microbial communities such as those seen in cystic fibrosis lung
Received: 2 December 2008
Accepted: 2 December 2008
Published: 1 April 2009
Abstract
Microbial communities play vital roles in many aspects of our lives, although our understanding of microbial biogeography and community profiles remains unclear. The number of microbes or the diversity of the microbes, even in small environmental niches, is staggering. Current microbiological methods used to analyse these communities are limited, in that many microorganisms cannot be cultured. Even for the isolates that can be cultured, the expense of identifying them definitively is much too high to be practical. Many recent molecular technologies, combined with bioinformatic tools, are raising the bar by improving the sensitivity and reliability of microbial community analysis. These tools and techniques range from those that attempt to understand a microbial community from their length heterogeneity profiles to those that help to identify the strains and species of a random sampling of the microbes in a given sample. These technologies are reviewed here, using the microbial communities present in the lungs of cystic fibrosis patients as a paradigm.
Keywords
amplicon length heterogeneity (LH)LH-PCRbioinformaticssupervised machine learningsupport vector machinesT-RFLPsequencingpyrosequencing454 sequencing
Introduction
Microbial communities play important roles in agriculture, bioremediation, and animal and human health, although our understanding of microbial biogeography and community profiles remains unclear. Current microbiological methods used to analyse these communities are limited, in that many microorganisms cannot be cultured or definitively identified. The application of recent molecular and bioinformatics tools is improving the sensitivity and reliability of microbial community analysis. These tools range from those using a 'broad brush strokes' approach to shed light on a microbial community profile to those involving identification of the strains and species of a random sampling of the microbes in a sample. The environmental genome shotgun survey of the Sargasso Sea [1] highlights the tremendous microbial diversity present in nature and the enormity of the effort needed to assess diversity and to understand a meta-community. This review discusses these technologies in the context of analysing the microbial communities present in the lungs of cystic fibrosis (CF) patients.
CF
CF is a fatal inherited disease primarily affecting Caucasians. In the USA, 3,500 children are born with the disease each year [2]. The gene responsible for CF encodes a protein called the CF transmembrane conductance regulator (CFTR) [3]. The CFTR is a secretory epithelial cyclic-AMP-activated chloride channel; mutations in the CFTR lead to decreased fluid secretion and dehydration of epithelial surfaces [4]. Oversecretion of thick mucus in the airway leads to congestion of the respiratory tract and increased susceptibility to chronic broncho-pulmonary infection, which is the major cause of morbidity and mortality among patients with CF [4] To retard the rate of decreasing lung function, bacterial infections are treated with antibiotics; however, these must be tailored to the particular infection, which is often polymicrobial. For example, anti-pseudomonal drugs are often ineffective for patients treated for Burkholderia cenocepacia infection owing to resistance [5]. Thus, it is important to identify the infecting pathogens correctly in order to prescribe an appropriate antibiotic regimen.
CF sputum bacterial flora
Staphylococcus aureus, Haemophilus influenzae and Pseudomonas aeruginosa are the primary pathogens found in the polymicrobial infection of CF patients [6]. Other opportunistic pathogens have also emerged, such as B. cenocepacia, Alcaligenes xylosoxidans, Ralstonia pickettii, Burkholderia gladioli, Stenotrophomonas maltophilia and Mycobacterium species [6, 7]. S. aureus, the predominant pathogen in children, is succeeded by H. influenzae during early childhood, and P. aeruginosa becomes the predominant pathogen during adolescence, reaching a prevalence rate of 80 per cent in adults [8]. The occurrence of the more recently emerging organisms increases with advancing age and severity of lung disease [8, 9].
Common assays used for clinical identification of bacteria and their limitations
Currently, the pathogens present in a CF sputum sample, throat swab or bronchoalveolar lavage (BAL) fluid are determined based on commercially available culture-based biochemical and phenotypic identification systems. These systems can either be manual, such as the API 20 NE (BioMirieux, Marcy l'Etoile, France) or fully or partly automated, such as MicroScan (Dade Behring, West Sacramento, CA, USA), BD Phoenix (Becton Dickinson, Sparks, MD, USA), and VITEK (BioMerieux) [10]. These systems allow clinical microbiologists to identify bacteria accurately and rapidly, ultimately leading to better and more cost-effective patient management [11]. Misdiagnosis results from the limitation of the system's reference database [10] or from strain variation [12]. Since only about 1 per cent of eubacteria in the environment can be cultured [13–15], a number of pathogenic species that are potentially present in the CF lung can be missed [16]. With other bacterial species (eg Mycobacterium), even though they can be cultured, due to their slow growth and similar phenotypes they can still be easily misdiagnosed [17]. Misidentification problems can be reduced or completely eliminated by using genotype-based molecular identification methods [18].
Molecular analysis of isolates
In the CF lung, some bacteria can be identified through culture whereas others would require molecular analysis. Molecular-based assays using polymerase chain reaction (PCR) and molecular markers such as 16S rRNA have been designed to identify pure isolates of many types of bacteria, including Mycobacterium, and will be discussed in detail.
PCR
PCR amplifies template material from minimal amounts of extracted DNA [19, 20]. This technique heralded a new era for the detection and identification of various microorganisms in any samples. Thus, the most recent techniques that study microorganisms are molecular based, using both universal and species-specific primers to select molecular markers [19].
Molecular marker 16S ribosomal RNA (rRNA)
rRNA plays a catalytic role in protein synthesis. The basic ribosome structure is evolutionarily conserved, although variations in overall proportions and sizes of RNA and protein exist [
21
,
22
]. A component of the small ribosomal subunit, 16S rRNA, is composed of alternating evolutionarily conserved and variable regions [
23
], and is the most commonly used molecular marker [
24
]. The conserved regions in 16S rRNA (Figure
1
) can be used to link organisms to their distant ancestors, while the highly variable regions can be used to identify evolutionary relationships between closely related organisms, at the genus and species level [
23
]. Studying these evolutionary relationships, however, requires the sequencing of the 16S rRNA gene.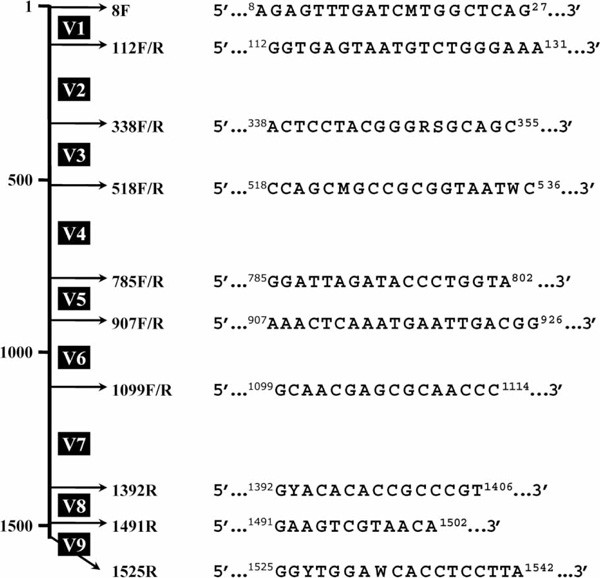 Mycobacteriumspp. identification
DNA-based commercial assays have been developed to identify slow-growing Mycobacteria. Mycobacterium tuberculosis can be identified using the Cobas Amplicor assay, which is based on DNA hybridisation of a fragment of the 16S rRNA gene [25]. Hain Lifescience (Baden-Wurttemberg, Germany) developed a genotype Mycobacteria direct assay for the detection of M. tuberculosis complex and four atypical Mycobacteria [25]. This technique uses nucleic acid sequence-based amplification of the 23S rRNA gene. The MicroSeq system (Applied Biosystems, Foster City, CA, USA) is able to identify many Mycobacterium species based on the first 500 base pairs of the 16S rRNA gene [25, 26]. The most used identification method is AccuProbe (Gen-Probe, San Diego, CA, USA). Isolates are grown either in solid or liquid cultures.
The cells are lysed using sonication and labelled DNA probes bound to the targeted rRNA. The resulting light emission is measured, thus identifying the isolate based on the DNA probe used in the experiment [25]. The emergence of non-tuberculous mycobacteria in CF and immunocompromised patients has created a need to assure accurate identification of these organisms. The sensitivity and accuracy of each of these assays and others vary, based on the species of Mycobacteria being analysed. These assays all rely on the isolation of bacteria and are not used to identify complex samples.
A sample containing two types of bacteria can be analysed using matrix-assisted laser desorption ionisation-time of flight mass spectrometry (MALDI-TOF-MS) [27, 28]. This method identifies cultivated organisms based upon the profile of proteins and peptides detected from the bacteria. In one study, CF-associated bacteria were analysed using MALDI-TOF-MS [27]. Each organism gave a specific spectrum, irrespective of how the organism had been grown (ie incubation time or media) or the presence of a mucoidy phenotype. The authors concluded that this identification technique is cost-effective, rapid and easy to use. This technique, as mentioned earlier, cannot be used to analyse complex communities.
Molecular tools for community studies
Microbial diversity in complex microbial communities can be assessed based on the lengths of one or more of the nine variable regions of 16S rRNA (Figure 1). The PCR amplicons can be analysed using other techniques, including: terminal restriction fragment length polymorphism (T-RFLP) analysis and amplicon length heterogeneity (LH) [24–29]. The fragments are separated and analysed using a capillary electrophoresis-based genetic analyser. The data generated can be subjected to bioinformatics and statistical analysis to increase their reliability. The resulting output can provide a community profile and can putatively identify individual organisms at the strain, species or genus level. The recent developments in high-throughput sequencing enable rapid sequencing of the amplicons (bacterial and fungal, with the use of appropriate primers), which is likely to lead to a rapid understanding of the community structure of any complex niche.
Conclusion
The members of a microbial community and the associated dynamics of the niche can be studied using various methods. LH, T-RFLP and sequencing have all been used to study microbial community profiles, as well as to identify bacteria found in the CF lung. Each of these techniques has its drawbacks but can produce data that can be used (with the help of bioinformatics) to understand the composition of the community and the factors that drive it. Recent advances in technology are now the driving force behind community profiling. With the advances in high-throughput sequencing-based technologies, entire niches of organisms can be studied in a relatively short period of time. As a result, a vast amount of complex data is produced from these experiments. With the use of newly designed bioinformatics tools, data can be interpreted correctly and provide researchers with information that can ultimately be used to address community interactions that dictate the outcomes of human health studies.
Authors' Affiliations
(1)
Department of Biological Sciences, Florida International University, Miami, USA
(2)
Department of Computer Science, University of Miami, Coral Gables, USA
(3)
Department of Molecular Microbiology and Infectious Diseases, College of Medicine, Florida International University, Miami, USA
(4)
Bioinformatics Research Group, School of Computing and Information Sciences, Florida International University, Miami, USA
Copyright
© Henry Stewart Publications 2009