Genetic variation in neurodegenerative diseases and its accessibility in the model organism Caenorhabditis elegans
Received: 9 March 2017
Accepted: 12 May 2017
Published: 25 May 2017
Abstract
Background
Neurodegenerative diseases (NGDs) such as Alzheimer's and Parkinson's are debilitating and largely untreatable conditions strongly linked to age. The clinical, neuropathological, and genetic components of NGDs indicate that neurodegeneration is a complex trait determined by multiple genes and by the environment.
Main body
The symptoms of NGDs differ among individuals due to their genetic background, and this variation affects the onset and progression of NGD and NGD-like states. Such genetic variation affects the molecular and cellular processes underlying NGDs, leading to differential clinical phenotypes. So far, we have a limited understanding of the mechanisms of individual background variation. Here, we consider how variation between genetic backgrounds affects the mechanisms of aging and proteostasis in NGD phenotypes. We discuss how the nematode Caenorhabditis elegans can be used to identify the role of variation between genetic backgrounds. Additionally, we review advances in C. elegans methods that can facilitate the identification of NGD regulators and/or networks.
Conclusion
Genetic variation both in disease genes and in regulatory factors that modulate onset and progression of NGDs are incompletely understood. The nematode C. elegans represents a valuable system in which to address such questions.
Keywords
Neurodegenerative diseasesNatural variationQuantitative genetics C. elegans
Background
Neurodegenerative diseases (NGDs) cause disability and premature death, primarily among older people. These chronic and fatal illnesses include Alzheimer's disease (AD), Parkinson's disease (PD), Huntington's diseases (HD), spinocerebellar ataxia, prion diseases (PrD) (i.e., transmissible spongiform encephalopathies), frontotemporal dementia (FTD), and amyotrophic lateral sclerosis (ALS) [
88
]. Most NGDs are age dependent with their incidence increasing with advancing age. This makes understanding NGDs increasingly important given the recent increase in human lifespan seen in many countries. Many disease-causing mutations underlying different NGDs have phenotypic effects that result from the misfolding of proteins and/or mitochondrial dysfunctions leading to widespread damage in different parts of the nervous system (Fig.
1
). This damage leads to a range of symptoms, and the overlap between symptoms in different NGDs can make it difficult to precisely diagnose patients. Diagnosis is further complicated by the individual variability apparent from the onset of disease [
99
]. For example, PD is characterized by motor issues, including tremor, slowing of movement, and an unstable gait, and by cognitive symptoms, but only some patients suffer from cognitive impairment and develop dementia [
20
].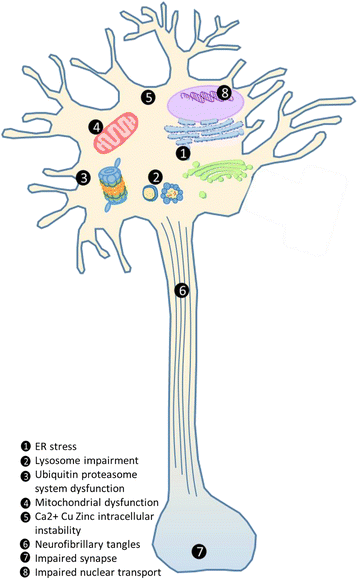 The rate of disease progression (i.e., the duration of a given neuropathological stage) and clinical presentation also vary from one patient to another. Young onset PD patients, for example, often have a more frequent family history of PD and a more variable survival rate relative to those without the familial history [79]. Several studies of the amyloid-β protein aggregates, which cause AD, also indicate that the existence of distinct shapes in beta amyloid peptide (Aβ) aggregates, 40 residue Aβ (Aβ40) and 42 residue Aβ fibril structures [51], and identify the distinct strain-specific traits (defined as "strainness") of the forms of AD by the different conformation of the aggregates [91, 104].
There is however limited knowledge about the mechanisms that determine individual variation. Individuals that carry the same mutation in the same disease-causing gene may display a range of different clinical symptoms. For example, assessing 6-year change in verbal memory, processing speed, and executive function in AD identified effects of MS4A4E, CLU, and NME8 in whites and of ZCWPW1 and CDS33 variants in African Americans. For MS4A4E and CLU, this association was only significant in individuals bearing at least one APOE ϵ4 allele (AD risk gene) [9]. Apart from lifestyle and environment, these individual differences are caused by the unique genetic background of each person. The genetic background, thus, could be defined as the genetic makeup of all alleles that interact with the disease related to the "disease-causing" mutation.
Detailed mechanistic studies into background modifiers of NGDs are however difficult to conduct at the individual level in humans for ethical and technical reasons. Model organisms such as yeast, insects, worms, fish, and rodents are therefore critical to furthering our understanding of differences between individual in NGDs. This use is facilitated by the range of methods and approaches available to construct transgenic models of human diseases in model species with different genetic backgrounds [1, 19, 32, 53]. They are likewise an important resource for investigating the genetic underpinnings of quantitative traits, including complex disease phenotypes. Here, we review the onset and progression of NGDs in the context of genetic background and illustrate how work on the model species Caenorhabditis elegans can illuminate the underlying mechanisms of individual variation.
Conclusions
Given the molecular conservation in neuronal signaling between C. elegans and vertebrates, including humans, this nematode is a valuable model species for studying NGD pathways and the alleles that affect them. Despite progress in identification of several AD- and PD-related genes, the effect of natural alleles underlying protein misfolding in these diseases remains mostly unclear. Here, we reviewed how natural variation could influence the severity of disease phenotypes. Experiments that rely solely on induced mutants in Bristol N2 limit the ability to explore how naturally varying alleles alter signaling pathways. Thus, further research should go beyond classic mutant screens on the genetic pathway analysis of complex traits, i.e., phenotypic differences among individuals, to also consider the allelic interactions in different genetic backgrounds. Consequently, the predictive nematode models of human genetic diseases could provide a more complete genetic and molecular understanding of how genetic variation shapes gene expression and cell biology for personalized genomic medicine.
Abbreviations
5-HIAA:

Serotoninmetabolite 5 hydroxyindoleacetic acid
AD:

Alzheimer's disease
ALS:

Amyotrophic lateral sclerosis
APP:

Amyloid precursor protein
Aβ:

Beta amyloid peptide
BDNF:

Brain-derived neurotrophic factor
CGVs:

Cryptic genetic variations
CNV:

Copy number variants
eQTLs:

Expression quantitative trait loci
ER:

Endoplasmic reticulum
FOXO:

Forkhead box O protein
FTD:

Frontotemporal dementia
GWAS:

Genome wide association studies
HD:

Huntington's disease
HTT:

Huntingtin
IIS:

Insulin/insulin-like growth factor
ILs:

Introgression lines
JNK:

c-Jun N-terminal kinase
LOAD:

Late-onset Alzheimer's disease
LRRK2:

Leucine-rich repeat kinase 2
MAOA:

Monogeamine oxidase amx-2
MAPK:

Mitogen-activated protein kinases
MLH1:

MutL homolog 1
mROS:

Mitochondrial reactive oxygen species
mTOR:

Mechanistic target of rapamycin
mTORC2:

Mammalian TORC2
NGDs:

Neurodegenerative diseases
PCD:

Programmed cell death
PD:

Parkinson's disease
polyQ:

Polyglutamine
PrD:

Prion diseases
QTLs:

Quantitative trait locus
QTNs:

Quantitative trait nucleotides
RILs:

Recombinant inbred lines
ROS:

Reactive oxygen species
S6K:

Subunit S6 kinase
SNP:

Single nucleotide polymorphism
UPR:

Unfolded protein response
UPS:

Ubiquitin/proteasome system
WES:

Whole-exome sequencing
Declarations
Acknowledgements
We thank Mark Sterken, Basten Snoek, Jana Stastna, Katharina Jovic, Yu Nie, and the members of our laboratories for helpful advice and discussions. We also thank Bei Tian, Jun Qiu, Yongran Ji, Chunyue Wei, and Dianfan Zhou for assistance.
Funding
YW is supported by a PhD Scholarship from Canterbury Christ Church University. JK is supported by the Human Frontiers Science Program. SH is supported by the Leverhulme Trust.
Availability of data and materials
Not applicable.
Consent for publication
Not applicable.
Authors' contributions
YW, JK, and SH wrote the manuscript. All authors read and approved the final manuscript.
Competing interests
The authors declare that they have no competing interests.
Ethics approval and consent to participate
Not applicable.
Publisher's Note
Springer Nature remains neutral with regard to jurisdictional claims in published maps and institutional affiliations.
Open AccessThis article is distributed under the terms of the Creative Commons Attribution 4.0 International License (http://creativecommons.org/licenses/by/4.0/), which permits unrestricted use, distribution, and reproduction in any medium, provided you give appropriate credit to the original author(s) and the source, provide a link to the Creative Commons license, and indicate if changes were made. The Creative Commons Public Domain Dedication waiver (http://creativecommons.org/publicdomain/zero/1.0/) applies to the data made available in this article, unless otherwise stated.
Authors' Affiliations
(1)
Biomolecular Research Group, School of Human and Life Science, Canterbury Christ Church University, Canterbury, UK
(2)
Laboratory of Nematology, Wageningen University, Wageningen, The Netherlands