The NF1 somatic mutational landscape in sporadic human cancers
Received: 14 May 2017
Accepted: 2 June 2017
Published: 21 June 2017
Abstract
Background
Neurofibromatosis type 1 (NF1: Online Mendelian Inheritance in Man (OMIM) #162200) is an autosomal dominantly inherited tumour predisposition syndrome. Heritable constitutional mutations in the NF1 gene result in dysregulation of the RAS/MAPK pathway and are causative of NF1. The major known function of the NF1 gene product neurofibromin is to downregulate RAS. NF1 exhibits variable clinical expression and is characterized by benign cutaneous lesions including neurofibromas and café-au-lait macules, as well as a predisposition to various types of malignancy, such as breast cancer and leukaemia. However, acquired somatic mutations in NF1 are also found in a wide variety of malignant neoplasms that are not associated with NF1.
Main body
Capitalizing upon the availability of next-generation sequencing data from cancer genomes and exomes, we review current knowledge of somatic NF1 mutations in a wide variety of tumours occurring at a number of different sites: breast, colorectum, urothelium, lung, ovary, skin, brain and neuroendocrine tissues, as well as leukaemias, in an attempt to understand their broader role and significance, and with a view ultimately to exploiting this in a diagnostic and therapeutic context.
Conclusion
As neurofibromin activity is a key to regulating the RAS/MAPK pathway, NF1 mutations are important in the acquisition of drug resistance, to BRAF, EGFR inhibitors, tamoxifen and retinoic acid in melanoma, lung and breast cancers and neuroblastoma. Other curiosities are observed, such as a high rate of somatic NF1 mutation in cutaneous melanoma, lung cancer, ovarian carcinoma and glioblastoma which are not usually associated with neurofibromatosis type 1. Somatic NF1 mutations may be critical drivers in multiple cancers. The mutational landscape of somatic NF1 mutations should provide novel insights into our understanding of the pathophysiology of cancer. The identification of high frequency of somatic NF1 mutations in sporadic tumours indicates that neurofibromin is likely to play a critical role in development, far beyond that evident in the tumour predisposition syndrome NF1.
Keywords
NF1Sporadic tumoursSomatic mutationsCancerMelanomaLung cancersGlioblastomaLeukaemiaBreast cancerPhaeochromocytoma
Background
Neurofibromatosis type 1 (NF1: Online Mendelian Inheritance in Man (OMIM) #162200) is an autosomal dominantly inherited tumour predisposition syndrome. Affecting 1/3000–4000 individuals worldwide, it results from constitutional mutations of the NF1 gene, lo\cated on the long arm of human chromosome 17 [1–4]. A variety of characteristic clinical features are associated with NF1, including hyperpigmentary abnormalities of the skin (café-au-lait macules (CALMs) and inguinal/axillary freckling, iris hamartomas (Lisch nodules) and the growth of benign peripheral nerve sheath tumours (neurofibromas) in the skin. Neurofibromas can be divided into several different subtypes and are associated with a variety of clinical complications. Cutaneous neurofibromas are small, discrete dermal tumours observed in most, but not all, adult NF1 patients [5]. The generally much larger plexiform neurofibromas (PNFs), a more diffuse tumour type, are present in 30–50% of NF1 patients. Importantly, some 10–15% of these benign PNFs subsequently develop into aggressive malignant peripheral nerve sheath tumours (MPNSTs) which are the main cause of morbidity in NF1 [6–8]. A number of other tumours are also associated with NF1, including optic gliomas, juvenile myelomonocytic leukaemia (JMML), benign or malignant phaeochromocytomas, gastrointestinal stromal tumours, glomus tumours, juvenile xanthogranulomas, rhabdomyosarcomas and lipomas.
NF1 is a tumour suppressor gene; in order for a particular cell to become cancerous, both alleles of a tumour suppressor gene must be mutated. This concept, known as the 'two-hit' hypothesis, was first proposed by Knudson, and the majority of NF1-associated tumours exhibit biallelic inactivation of NF1 [9, 10].
The NF1 gene is spread over a large locus (350 kbp) at 17q11.2. It contains 61 exons, including four alternatively spliced exons, and is transcribed into a 12 kbp messenger RNA (mRNA) containing an open reading frame of 8454 nucleotides [11]. Curiously, intron 27b, the largest intron of NF1 at 61 kbp, contains three embedded genes, OMGP, EVI2B and EVI2A, that are all transcribed in the opposite orientation to NF1 but whose protein products appear to have little or no interaction with neurofibromin [11].
Neurofibromin: the NF1 gene product
Neurofibromin is a 2818 amino acid, multidomain protein. Although ubiquitously expressed, its highest levels are to be found in cells of the central nervous system (CNS), where it is often found in association with tubulin. Neurofibromin is a member of a large family of evolutionarily conserved proteins: the mammalian Ras-GTPase-activating protein (GAP)-related proteins, and its most highly conserved region is the centrally located GAP-related domain (GRD), which is encoded by exons 20–27a. The best understood function of neurofibromin is its role in tightly regulating cellular levels of activated RAS proteins. All RAS proteins exist in two cellular states, the majority being found in their inactive GDP-bound form, with only a very small fraction present in their metabolically active GTP-bound form. Only in their GTP-bound form are RAS proteins able to upregulate the many downstream effector proteins that form part of the RAS/RAF/MAPK signalling pathway [12–16]. The key role of neurofibromin is to downregulate the activated GTP-bound RAS by stimulating the low intrinsic GTPase activity of the RAS proteins themselves, thereby promoting the conversion of active RAS-GTP into its inactive RAS-GDP state. Hence, any loss of neurofibromin functionality, due to inactivating mutations in NF1, will result in sustained intracellular levels of active RAS-GTP, resulting in prolonged activation of the RAS/RAF/MAPK signalling pathway and ultimately a loss of growth control and increased cellular proliferation.
Increased active RAS-GTP levels also stimulate the PI3K/AKT/mTOR signalling pathway which protects cells from apoptosis. In the absence of functional neurofibromin, the pathway can become constitutively activated resulting in an increase in cell proliferation and survival. The RAF/MAPK and PI3K/AKT pathways both activate mTOR signalling, a process found to be highly regulated in neurofibromas whereby mTOR pathway activation occurs in the absence of growth factors, in both NF1 tumours and neurofibromin-deficient cultured cells. Indeed, the mTOR pathway is constitutively activated in neurofibromin-deficient primary cells and tumours, and is regulated by phosphorylation and inactivation of the TSC2-encoded protein tuberin by AKT, ERK and RSK [13, 17]. It has also been suggested that increased RAS activity in brain cells may be associated with NF1-related learning deficiencies; it may result in long-term impairment as a result of increased GABA-mediated inhibition [18]. Neurofibromin levels and therefore Ras signalling can also be affected by mechanisms other than NF1 mutation including ubiquitination [19].
Neurofibromin is known to associate with a large number of proteins, including tubulin, kinesin, protein kinases A and C, syndecan, caveolin, cytokeratin intermediate filaments and the amyloid precursor protein, although the biological significance of these protein-protein interactions is largely unknown. The diversity of protein associations does however emphasize the point that neurofibromin is likely to have many functions other than merely functioning as a GAP protein [14, 20]. Nonetheless, to date, only the function of the GAP-related domain of neurofibromin is fully understood, so it is to be hoped that new molecular studies will reveal additional functional properties of neurofibromin [21].
Mutation analysis of the NF1 gene
The germline mutation rate of NF1 is some 10-fold higher than that observed for most other inherited disease genes, with more than half of NF1 cases attributed to de novo mutations [7]. Currently, over 2600 different inherited mutations in NF1 have been reported in the Human Gene Mutation Database (HGMD®) as a cause of NF1, varying in size from large genomic deletions spanning several megabases to single base-pair substitutions that alter an encoded amino acid or the function of a splice site [22–26]. There is, however, no evidence of any localized mutation clustering within NF1. Whilst the constitutional NF1 mutational spectrum is well defined with missense/nonsense (27.7%), splicing (16.3%), microdeletions (26.9%), microinsertions (11.1%), indels (2.0%), gross deletions (>20 bp; 13.3%), gross insertions (>20 bp; 2.0%), complex rearrangements (0.6%) and a couple of putative regulatory mutations, there is no evidence of any localized mutation clustering within NF1 [27, 28]. The majority (>80%) of constitutional NF1 mutations are inactivating, predicted to result in almost complete absence of the transcript or protein [25]. Approximately 5–10% of all heritable NF1 mutations involve gross DNA alterations, mainly genomic deletions spanning the whole gene and flanking region, as well as intragenic multi-exon rearrangements [29]. Constitutional mutations have not been identified in any of the four alternatively spliced exons in research studies, but this may be due to ascertainment bias, as the majority of clinical laboratories that analyse NF1 do not screen these alternative exons for mutations.
A subset of the many NF1 splicing mutations, i.e. deep intronic mutations, result in the creation of novel acceptor/donor splice sites. These may give rise to the inclusion of a novel cryptic exon into the transcribed mRNA, leading to the production of an aberrant neurofibromin protein. Such mutations account for ~2% of all reported constitutional NF1 mutations [30].
To date, only three NF1 families with gonadal or germline mosaicism have been reported [31–33]. In such families, only a small proportion of the germ cells, whether sperm or ova, will carry the new NF1 mutation, but this can nevertheless result in more than one affected child being produced by clinically normal parents [34].
A major challenge for clinicians and geneticists dealing with NF1 is the successful identification and characterization of causative NF1 mutations in their patients. This problem relates to a number of features of the NF1, including its large genomic size (~350 kbp) and complexity (61 exons), the absence of any obvious mutational hotspots or recurrent mutations, and the wide spectrum of mutation types observed. Indeed, the lack of mutational clustering and the paucity of recurrent mutations necessitates analysis of the entire NF1 gene in the search for potential pathogenic mutations. Furthermore, given the broad spectrum of known NF1 mutations, no single mutation detection test can, as yet, successfully identify all such mutation types [35]. Furthermore, some 30% of all NF1 mutations are predicted to cause aberrant splicing, and for this reason, the analysis of both RNA and DNA from patients in mutation screening protocols is clearly required [25]. Whilst the majority of NF1 splicing mutations occur within consensus acceptor and donor splice site sequences, a number of missense, nonsense, and even 'silent' mutations may also result in aberrant splicing, which are often only identifiable by screening a patient's RNA [25]. As well as the challenges in collection and analysis of patient mRNA, a frequent issue is the difficulty in interpreting the clinical diagnostic significance of putative NF1 missense mutations, as this may require a family segregation study and/or in vitro functional analysis to determine the pathogenicity (or otherwise) of the variant in question [25, 36].
Furthermore, many highly homologous NF1 pseudogene sequences are scattered throughout the human genome and can often interfere with PCR-based diagnostic tests. This emphasizes the need for the careful selection of PCR primers to avoid non-specific amplification of these pseudogene sequences.
The spatial distribution of NF1 microdeletions is strongly influenced by the presence of a number of low-copy repeats (LCRs) spanning the 17q11.2 region that encompasses the NF1 gene. Indeed, studies into NF1 microdeletions have provided a general model to understand the different mutational mechanisms underlying large genomic rearrangements associated with inherited diseases [37].
The NF1 mutation detection rate in classical NF1 patients can be up to 95%. However, somatic mutation detection is more challenging, largely because of the cellular heterogeneity which is characteristic of tumour tissue [38]. Mutations in multiple genes encoding the components of the RAS/MAPK pathway predispose patients to develop clinical features that overlap with those of NF1, e.g. Legius syndrome, Noonan syndrome inter alia, and the majority of these conditions are associated with tumours [39].
Tumour biology
All cancers originate from a single cell that starts to behave abnormally due to acquired somatic mutations in its genome. These somatic mutations may be the consequence of impaired DNA replication machinery, exogenous or endogenous mutagen exposures, enzymatic modification of DNA or defective DNA repair.
A subset of these somatic changes, termed 'driver mutations', confer a selective growth advantage and are implicated in cancer development, whereas the remainder are considered to be 'passengers' [40]. The Cancer Genome Atlas (TCGA), International Cancer Genome Consortium (ICGC), Catalogue of Somatic Mutations in Cancer (COSMIC) and cBioPortal for Cancer Genomics collectively represent the results of large-scale sequencing of cancers, thereby capturing many of the genomic alterations driving malignancy [41–44]. The cBio Cancer Genomics Portal is an open-access resource for the interactive exploration of multidimensional cancer genomics data sets, currently providing access to data from more than 5000 tumour samples from 147 cancer studies [44–46]. It contains data on somatic NF1 mutations in different types of tumour including melanoma (desmoplastic, skin cutaneous and uveal), breast carcinoma, neuroendocrine prostate cancer, glioblastoma, lung adenocarcinoma and squamous cell carcinoma, urothelial carcinoma, uterine carcinoma, adenoid and ovarian serous cystadenocarcinoma, paraganglioma, phaeochromocytoma, pancreatic cancer, adrenocortical carcinoma, stomach adenocarcinoma, sarcoma, oesophageal cancer, rhabdomyosarcoma and many more. In this review, we detail the frequency of somatic NF1 mutations in many non-NF1-associated sporadic cancers including melanoma, glioblastoma, neuroblastoma, breast cancer, ovarian serous carcinoma, paraganglioma and phaeochromocytoma, lung adenocarcinoma, lung squamous cell carcinoma, bladder, colorectal and leukaemia. Further, it is anticipated that with the advent of powerful sequencing technologies, combined with precise microdissection of tissue, somatic NF1 mutations will be identified in additional tumour types. Somatic NF1 mutations are important not only because they may be drivers but also because they may contribute to resistance to therapy [47]. Elucidation of the mutational landscape of somatic NF1 mutations in a large number of sporadic tumours, their role in the initiation and progression of tumours and how they can confer resistance or sensitivity to a therapeutic intervention may provide further insight into the mechanisms underlying tumour development and ultimately aid the development and targeting of therapies.
The frequency of somatic
NF1
mutations in different sporadic tumour types derived from the literature is given in Table
1
. The cBioPortal for Cancer Genomics provides a web resource for exploring, visualizing and analysing multidimensional cancer genomics data and provides graphical summaries of gene-level data from multiple platforms, shown in Fig.
1
[
45
].
Table 1
Frequency of somatic NF1 mutations in different human neoplasms
| Neoplasm | Frequency of somatic NF1 mutations | References |
| --- | --- | --- |
| Cutaneous melanoma | 12–30% | |
| Desmoplastic melanoma | 45–90% | |
| Lung adenocarcinoma | 7–11.8% | |
| Lung squamous cell carcinoma | 10.3–11% | |
| Acute myeloid leukaemia | 3.5–23.6% | |
| T cell acute lymphoblastic leukaemia | 3% | [88] |
| Breast cancer | 2.5–27.7% | |
| Ovarian carcinoma | 12–34.4% | |
| Paraganglioma/phaeochromocytoma | 21–26% | |
| Neuroblastoma | 2.2–6% | [130] |
| Glioblastoma | 14–23% | |
| Colon adenocarcinoma | 3.8–6.25% | |
| Bladder transitional cell carcinoma | 6–14% | |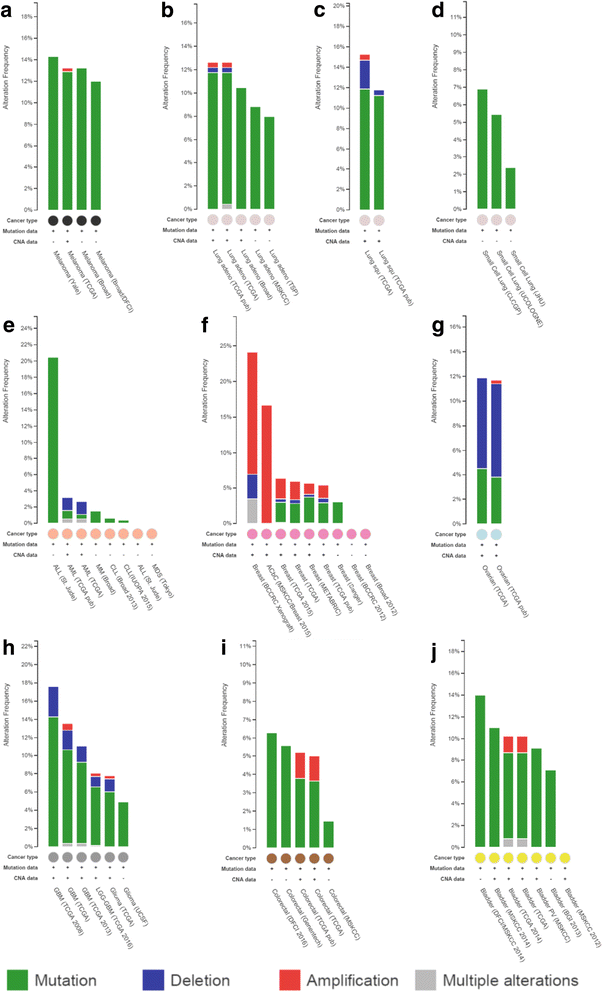 Conclusion
Somatic NF1 mutations are present in tumours associated with NF1 and in a range of sporadic tumours, in different cell types and at various frequencies (Table 1). The frequency and temporal occurrence of somatic mutations and the range of histological types in which they occur therefore imply an important role for neurofibromin function in cancer development and progression. Whilst it is unclear whether the biallelic loss of NF1 is common or if only heterozygous mutations of NF1 contribute to tumour progression in sporadic tumours, mouse cells heterozygous for Nf1 mutations show abnormal growth and invasion [138, 175].
Somatic NF1 mutations may be critical drivers in multiple cancers as well as contributing to resistance to therapy. The mutational landscape of somatic NF1 mutation should provide new insights into our understanding of the pathophysiology of cancer.
The introduction of a molecular genomics approach to cancer biology represents a major shift in our approach to the diagnosis and treatment of malignancy. The vast amount of genomic data generated over the last 10 years, which continues to be generated, is providing invaluable insights into the complexities of cancer genome structure, function and evolution. With recent advances in sequencing technology and high-throughput drug discovery, the increasing availability of more sophisticated animal models and the application of the state-of-the-art tumour imaging techniques and the diagnosis and treatment of cancer can only improve. The identification of somatic NF1 mutations in such a wide spectrum of tumours, including types not associated with NF1, indicates that neurofibromin is likely to play a key role in cancer, far beyond that evident in the tumour predisposition syndrome NF1.
Abbreviations
ADC:

Adenocarcinoma
AML:

Acute myeloid leukaemia
AOCS:

The Australian Ovarian Cancer Study
CCLE:

Cancer Cell Line Encyclopedia
CMML:

Chronic myelomonocytic leukaemia
CNS:

Central nervous system
COSMIC:

Catalogue of Somatic Mutations in Cancer
HGOSC:

High-grade serous ovarian carcinoma
HR:

Homologous recombination
ICGC:

International Cancer Genome Consortium
JMML:

Juvenile myelomonocytic leukaemia
MAPK:

Mitogen-activated protein kinases
MPNST:

Malignant peripheral nerve sheath tumour
NF1:

Neurofibromatosis type 1
NSCLC:

Non-small cell lung cancer
OSC:

Ovarian serous carcinoma
PI3K:

Phosphoinositide-3 kinase
RAS-GEFs:

RAS guanine nucleotide exchange factors
SCLC:

Small cell lung cancer
SqCC:

Squamous cell lung cancer
T-ALL:

T cell acute lymphoblastic Leukaemia
TCC:

Urothelial transitional cell carcinoma
TCGA:

The Cancer Genome Atlas
Declarations
Acknowledgements
Not applicable.
Funding
We thank Sheila and Clive Owen for the financial support.
Availability of data and materials
Not applicable.
Authors' contributions
MU initiated the study, supported by CP, HT, IMF and DNC. All authors contributed to the writing and review of the manuscript. All authors read and approved the final manuscript.
Competing interests
The authors declare that they have no competing interests.
Consent for publication
Not applicable.
Ethics approval and consent to participate
Not applicable.
Publisher's Note
Springer Nature remains neutral with regard to jurisdictional claims in published maps and institutional affiliations.
Open AccessThis article is distributed under the terms of the Creative Commons Attribution 4.0 International License (http://creativecommons.org/licenses/by/4.0/), which permits unrestricted use, distribution, and reproduction in any medium, provided you give appropriate credit to the original author(s) and the source, provide a link to the Creative Commons license, and indicate if changes were made. The Creative Commons Public Domain Dedication waiver (http://creativecommons.org/publicdomain/zero/1.0/) applies to the data made available in this article, unless otherwise stated.
Authors' Affiliations
(1)
Division of Cancer and Genetics, Institute of Medical Genetics, Cardiff University, Cardiff, UK