Measuring and using admixture to study the genetics of complex diseases
Received: 25 August 2003
Accepted: 25 August 2003
Published: 1 November 2003
Abstract
Admixture is an important evolutionary force that can and should be used in efforts to apply genomic data and technology to the study of complex disease genetics. Admixture linkage disequilibrium (ALD) is created by the process of admixture and, in recently admixed populations, extends for substantial distances (of the order of 10 to 20 cM). The amount of ALD generated depends on the level of admixture, ancestry information content of markers and the admixture dynamics of the population, and thus influences admixture mapping (AM). The authors discuss different models of admixture and how these can have an impact on the success of AM studies. Selection of markers is important, since markers informative for parental population ancestry are required and these are uncommon. Rarely does the process of admixture result in a population that is uniform for individual admixture levels, but instead there is substantial population stratification. This stratification can be understood as variation in individual admixtures and can be both a source of statistical power for ancestry-phenotype correlation studies as well as a confounder in causing false-positives in gene association studies. Methods to detect and control for stratification in case/control and AM studies are reviewed, along with recent studies showing individual ancestry-phenotype correlations. Using skin pigmentation as a model phenotype, implications of AM in complex disease gene mapping studies are discussed. Finally, the article discusses some limitations of this approach that should be considered when designing an effective AM study.
Keywords
complex diseasesadmixture linkage disequilibrium (ALD)admixture mapping (AM)biogeographical ancestry (BGA)structurephenotype-ancestry correlation
Introduction
Genetic analysis of phenotypes and diseases has traditionally followed two approaches: family-based linkage analysis and population-based association studies. While in linkage analysis it is the co-segregation of alleles in families that is measured, population-based studies use non-random associations between phenotypes and alleles in populations to identify causative genes. Linkage analysis has proven to be immensely successful as a means of identifying genes for a number of single gene diseases with simple Mendelian inheritance (eg see OMIM database). Complex diseases are multifactorial, polygenic and often characterised by late age of onset, incomplete penetrance, locus heterogeneity and environmental exposures and, despite significant efforts, have not been amenable to family-based mapping.
Linkage disequilibrium (LD) is an important aspect of genetic association studies and is generated in a population through mutation, selection, drift, non-random mating and admixture [1]. Allelic associations due to LD are significant and are correlated with physical distance within small genomic regions but decay over time due to recombination [2–4]. LD-based association studies have been successful in both fine scale mapping [5, 6] and initial disease gene mapping in homogeneous populations that have undergone recent bottlenecks (eg Hirschsprung disease in Mennonites [7], Bardet- Beidle syndrome in Bedouins [8]). Allelic associations can result either from direct functional effects of the alleles tested or indirectly through non-random associations between the allele measured and nearby functional alleles. Since functional alleles in most genes are still unknown and are indeed an object of the research, LD is an important feature of how genes can be screened for alleles that alter disease risk. Thus, there has been substantial focus on the extent of LD across the genome and the definition of statistical methods for disease gene mapping using LD [9–11]. In large cosmopolitan populations, however, LD may be difficult to detect when the mutation is old, since the amount of remaining LD may be small. Additionally, false-positive associations due to population stratification are important confounders in LD-based association studies.
Admixture studies and their use in disease gene mapping
Intermixture between previously isolated populations leads to the creation of admixed populations. The process of admixture itself creates LD between all loci, linked and unlinked, that have different allele frequencies in the parental populations. The magnitude of admixture linkage disequilibrium (ALD) in an admixed population depends on the allele frequency differential between the parental populations, the level of admixture, the admixture dynamics, the time since admixture and the recombination rate between the loci [12]. While ALD between unlinked markers decays rapidly (within two to four generations), ALD between linked markers decays more slowly. The exponential decrease in ALD with genetic distance facilitates the differentiation of ALD that is high between markers that are close together and genetically linked, from ALD generated at unlinked loci. Thus, if the parental populations differ in a trait or disease due to different frequencies of risk alleles, it should be possible to identify the loci containing these alleles using admixture mapping (AM) [12–14].
Many US residents can trace their genetic ancestry to more than one continent. The European colonial period that started in the late 1400s brought together in the New World populations that had been geographically isolated, namely, Europeans, West Africans and Native Americans. Given the recent and common origin of all human populations, this admixture had only a small average effect on the gene pools of these new populations. In other words, for most genomic regions, the pre-colonial (or parental) populations had similar allele frequencies and, at these, admixture was of little consequence. At some other loci, however, there had been some change in allele frequency in the time since the separation of parental populations and it is at these loci where admixture has had an important effect. Since populations like African Americans, African Caribbeans and Mexican Americans were formed in the recent past, allelic associations in these populations that were created by admixture extend over large distances. Admixed populations represent a useful resource for mapping complex-disease genes by using this long-range ALD [12], which requires fewer markers to screen the genome than other populations or approaches. Understanding the genetic consequences of admixture is important because it can be both a confounding factor and a source of statistical power in gene identification studies.
Two models of admixture dynamics have been described to represent the extremes of the process by which an admixed population is formed: the continuous gene flow (CGF) model and the hybrid isolation (HI) model [
15
,
16
]. In the HI model, admixture occurs immediately in a single generation without further contribution from either parental population, hence, ALD is generated in a single generation and gradually decays in successive generations through independent assortment and recombination between loci. Few false-positive results are thus expected in an association study under the HI model. Alternatively, the CGF model represents a situation where admixture occurs at a steady rate in each generation, with contributions from one (or all) of the parental populations into the admixed population. ALD under the CGF model increases in each generation, since new admixture is constantly occurring. A point will be reached, however (when the admixture proportion = 0.5), where continued admixture will actually decrease the ALD, since added gene flow will result in the conversion of the admixed population into the introgressing parental population. Figure
1
shows the amount of ALD expected under these two models for linked and unlinked loci. For both models, association between markers is inversely correlated with the genetic distance between them. Simulation studies have shown that populations that have a demographic history more consistent with the CGF model of admixture retain ALD over larger chromosomal regions and show significant associations between unlinked marker loci [
15
]. While associations between unlinked markers could potentially lead to false-positives, conditioning upon parental admixture allows the distinction between associations arising due to true linkage and those due to CGF stratification to be made, thereby providing greater power for detecting ALD over larger chromosomal distances [
15
].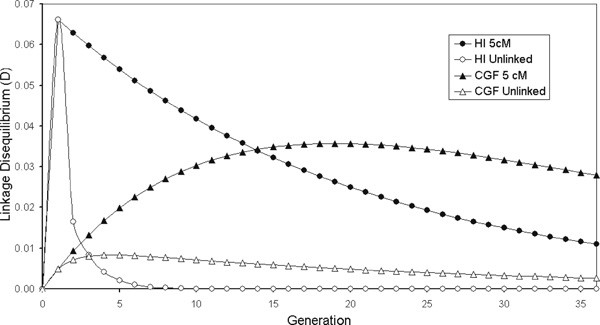 There are several ways in which admixture can be an important resource in the elucidation of genetic factors that contribute to the risk of common disease. Common diseases often have environmental components to their risk, and the clinical phenotype results from currently unknown interactions between environmental factors and underlying genotypes. Decomposing the sources of variation is thus important in order accurately to understand the aetiology of the trait. It is possible to distinguish between the genetic and environmental explanations for ethnic differences in disease risk (and investigating the mode of inheritance), by studying the relationship of disease risk to individual admixture [
14
,
17
–
19
]. For example, recent studies have demonstrated a strong relationship between proportional West African ancestry and the risk of systemic lupus erythematosus in admixed populations in Trinidad [
18
]. Several common diseases (eg hypertension, diabetes, obesity, prostate cancer and osteoporosis) have differences in risk among population groups (see Table
1
). In situations where these differences have a genetic basis, genes underlying these differences can be identified by testing for locus ancestry by conditioning on parental admixture. As detailed by Shriver
et al
., this approach has a greater statistical power than family linkage studies for mapping polygenic traits [
14
]. Estimates of biogeographical ancestry (BGA), the proportional ancestry levels of an individual, can be used in conjunction with measured environmental effects for investigating the roles of environmental and inherited risks underlying complex traits [
18
–
20
]. It is important to recognise that associations between individual admixture and disease risk might reflect correlations between BGA and socio-cultural variables and exposures. For example, hypothetically, if BGA and years of education were to be correlated, hypertension might be correlated with BGA, even though the causal risk factor was years of education or vice versa.
Table 1
Diseases with possible genetic components based on ethnic differences in disease rates and hence amenable to admixture mapping
| Disease | High-risk groups | Low-risk groups | Relative risk ratio | Reference(s) |
| --- | --- | --- | --- | --- |
| Obesity | African women | Europeans | 2:4 | |
| | Native Americans | | | |
| | South Asians (central adiposity,) | | | |
| | Pacific Islanders, Aboriginal Australians | | | |
| Non-insulin dependent diabetes (NIDDM) | South Asians, West Africans, Peninsular Arabs, Pacific Islanders and Native Americans | Europeans | 4:7 | |
| Hypertension | African Americans, West Africans | Europeans | 2:3 | |
| Coronary heart disease | South Asians | West African men | 2:4 | |
| End-stage renal disease | Native Americans and African populations | Europeans | N/A | [72] |
| Dementia | Europeans | African Americans, Hispanic Americans | N/A | [73] |
| Autoimmune diseases: | | | | |
| Systemic lupus | West Africans | Europeans | N/A | [55] |
| erythematosus | Native Americans | Europeans | | |
| Skin cancer | Europeans | | N/A | [74] |
| Lung cancer | Africans | European Americans, Chinese, Japanese | | |
| Prostate cancer | Africans and African Americans | | | [77] |
| Multiple sclerosis | Europeans | Chinese, Japanese, African Americans, Turkmens, Uzbeks, Native Siberians, New Zealand Maoris | N/A | [78] |
| Osteoporosis | European Americans | African Americans | N/A | [79] |
Recent studies and future directions
Several theoretical and practical studies indicate that AM approaches promise to be suitable for identifying genes causing complex diseases. Methodological advancements have been made to offset the potential problems arising from association between unlinked loci by conditioning on parental admixture [
13
,
29
], and to detect and correct for population stratification [
59
,
60
]. Use of Bayesian AM [
13
,
29
,
59
] can take into consideration various uncertainties, including missing data values for estimating admixture proportions, and can overcome problems arising out of mis-specification of parental allele frequencies and promises to be an effective tool for admixture studies. This method, which is different from the classical disequilibrium-based approach that is more commonly used, is perhaps more suitable for disease gene mapping in admixed populations and has already been successfully used for mapping [
14
]. Table
2
summarises recent studies showing associations between ancestry and phenotypes/diseases and instances where AM was used to identify genes. Currently, the primary impediment to exhaustive AM genome scans is the lack of verified AIM panels. Sufficient numbers of markers are available as candidate AIMs, but effort and resources are required to confirm these markers and to generate accurate parental allele frequencies. Efforts are currently underway in several laboratories to identify more AIMs for this purpose. It seems inevitable that more such studies will be carried out in the near future to utilise the immense potential of this approach.
Table 2
Diseases showing ancestry-phenotype correlation
| Phenotype | Population studied | Association observed | Test statistic reported | Reference |
| --- | --- | --- | --- | --- |
| Non-insulin-dependent diabetes mellitus (NIDDM) | Mexican Americans and Pima Indians | Amerindian ancestry with NIDDM | Kendall's τ = 0.848 ± 0.221, [p ⊬ 8.1 × 105] | [48] |
| NIDDM | Mexican Americans | Amerindian ancestry with NIDDM | 0.943c (p < 0.001) | [63] |
| 1) Body mass index (BMI) | Pima Indians | European admixture with BMI, plasma glucose, 2-hour glucose | 0.455b (95% CI: 0.301-0.688) | [47] |
| 2) Plasma glucose | | | | |
| 3) NIDDM | | | | |
| NIDDM | Mexican Americans | Native American ancestry with NIDDM prevalence | N/A | [45] |
| Skin pigmentation (reflectrometry) | 1) African Americans | Melanin index versus % African ancestry | 1) 0.21a, (p < 0.0001) | [14] |
| | 2) Afro-Caribbeans | | 2) 0.16a (p < 0.0001) | * Mapped phenotype to two loci: TYR and OCA as candidates which influence normal pigmentation variation |
| | 3) European Americans | | 3) 0.001a (p = NS) | |
| Systemic lupus erythematosus (SLE) | Caribbeans (without Indian or Chinese ancestry) | SLE and African Ancestry | 28.4 | [18] |
| | | | (95% CI: 1.7-485 after SES adjustmentb) | |
| Insulin-related phenotypes | African American | African admixture (ADM): | | [20] |
| | Europeans | | | |
| | Americans | | | |
| 1) Insulin sensitivity (SI), | | 1) with SI | 1) (p < 0.001)a | |
| 2) Fasting insulin (FA), | | 2) with FA | 2) (p < 0.01)a | |
| 3) Acute insulin response (AIR) | | 3) with AIR | 3) (p < 0.001)a | |
| Oxygen capacity | Quechua natives | Positive: | 0.8a | [80] |
| | | Spanish admixture with large VO2 at high altitudes | | |
| Bone mineral density (BMD) | Puerto Ricans from New York | Positive: | 0.065a (p = 0.042) | [17] |
| | | European admixture with lower BMD | | |
| Skin pigmentation (Lightness index) | Hispanics from the San Luis Valley, Colorado | Positive: | 0.0821a (p < 0.001) | [17] |
| | | Proportional European ancestry with increased Lightness | | |
Declarations
Acknowledgements
We thank Dr Paul McKeigue and Dr Esteban Parra for helpful discussions on the subject. We also acknowledge helpful comments from an unknown reviewer. This work was supported in part by grants from NIH/NIDDK (DK53958) and NIH/NHGRI (HG02154) to M.D.S.
Authors' Affiliations
(1)
Department of Anthropology, Pennsylvania State University, University Park, USA
Copyright
© Henry Stewart Publications 2003