Genome update

Open Access
The human fatty acid-binding protein family: Evolutionary divergences and functions
Received: 19 January 2011
Accepted: 19 January 2011
Published: 1 March 2011
Abstract
Fatty acid-binding proteins (FABPs) are members of the intracellular lipid-binding protein (iLBP) family and are involved in reversibly binding intracellular hydrophobic ligands and trafficking them throughout cellular compartments, including the peroxisomes, mitochondria, endoplasmic reticulum and nucleus. FABPs are small, structurally conserved cytosolic proteins consisting of a water-filled, interior-binding pocket surrounded by ten anti-parallel beta sheets, forming a beta barrel. At the superior surface, two alpha-helices cap the pocket and are thought to regulate binding. FABPs have broad specificity, including the ability to bind long-chain (C16-C20) fatty acids, eicosanoids, bile salts and peroxisome proliferators. FABPs demonstrate strong evolutionary conservation and are present in a spectrum of species including Drosophila melanogaster, Caenorhabditis elegans, mouse and human. The human genome consists of nine putatively functional protein-coding FABP genes. The most recently identified family member, FABP12, has been less studied.
Keywords
FABPintracellular lipid-binding proteinsuptake and trafficking of lipidsmetabolic diseaseshuman genome
Introduction
Hydrophobic ligands, such as fatty acids (FAs) and their acyl-CoA derivatives (FA-CoA), serve many biological functions within the cell. They serve as metabolic energy sources, substrates for membranes and signalling molecules for metabolic regulation [1, 2]. The insoluble properties of FAs make for the requirement for chaperones to bind and transfer them throughout various cellular compartments, including the peroxisomes, mitochondria, endoplasmic reticulum, lipid droplets and nucleus. A family of highly expressed intracellular lipid-binding proteins (iLBPs)--the fatty acid-binding proteins (FABPs)--serves to bind these free ligands with high affinity. FABPs are ubiquitously expressed throughout tissues that are highly active in FA metabolism and comprise several isoforms. To date, nine FABP protein-coding genes have been identified in the human genome. These include liver(L-FABP), intestine- (I-FABP), heart- (H-FABP), adipocyte- (A-FABP), epidermal- (E-FABP), ileal-(Il-FABP), brain- (B-FABP), myelin- (M-FABP) and testis-FABP (T-FABP). These different isoforms were first named for the organ in which they were first identified or mostly predominate, but their expression profiles are not exclusive to that specific organ. For example, L-FABP is not only expressed in the liver, but also in the intestine, pancreas, kidney, lung and stomach. In addition to the nine known FABPs that have been widely studied, a newer member of the family, FABP12, has recently been discovered. The gene has been identified, but published reports on the protein encoded by this gene are not yet available. Therefore, in this reviews only the identification of the gene will be addressed.
Domain structure of FABP proteins
Although members of the FABP family share moderate sequence homologies of 20-70 per cent, their tertiary structures are virtually superimposable [
3
–
5
]. Sequences of human FABPs are aligned in Figure
1
. These ~15-kilodalton proteins comprise ten anti-parallel β-barrel (βA-βJ) structures containing a solvent-accessible ligand-binding pocket, capped by an N-terminal helix-turn-helix motif (αI-αII) which is thought to act as the regulatory portal for binding. The helical N-terminus is involved in the regulation of FA transfer from membranes via electrostatic interactions [
6
–
8
]. Detailed superimposed images of the FABP family have been demonstrated previously [
5
]. All FABPs are capable of binding long-chain FAs (LCFAs; C12-20), which differ in their selectivity, affinity and binding mechanism [
1
,
6
]. Generally, these lipid chaperones bind only one ligand per molecule of protein, with the exception of L-FABP, which is capable of binding two ligands simultaneously. The ligand-binding process has been hypothesised, suggesting that FA enters a solvent-accessible area of the protein through a dynamic region made of α-helix II and the turns between βC-βD and βE-βF loops before binding in the cavity of the protein [
9
]. This has been termed the 'portal hypothesis', and is supported by a number of groups. Affinities toward ligands are generally increased with more hydrophobic molecules, and decreased with molecules of decreasing chain length and increasing sites of unsaturation. Dissociation constants have been calculated to be in the nanomolar to micromolar range [
1
,
10
,
11
]. Published reports have also demonstrated that proteins from different tissues reveal large differences in binding thermodynamics. ΔH° values differ by about 15 kcal/mol for different FABPs and by about 21 kcal/mol when compared with cellular retinoic acid-binding protein (CRABP) 1. Heat capacity changes generated by FA binding (ΔC
p
) range from 0 to-1.3 kcal/mol/K [
11
]. X-ray crystallography and nuclear magnetic resonance (NMR) studies have revealed FA-binding characteristics within the water-filled cavity, where bound FAs occupy approximately one-third the total pocket volume and share the cavity with many ordered and disordered water molecules [
12
]. Generally, the FA is orientated with the carboxylate group facing inwards. In this binding coordination, the carboxylate group of the FA typically involves tyrosine and arginine residues [
12
]. The binding conformations for an individual FABP vary slightly for different FAs, further distinguishing the differences between FABP family members.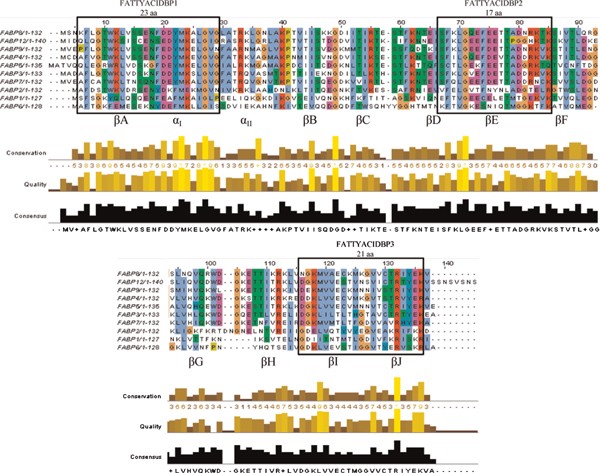 The overall gene structure of FABPs is highly conserved, consisting of four exons separated by three introns [13–16]. The position of exons and introns are similar for all FABPs, but the intron length is variable between isoforms. Typically, the lengths of exons are relatively short, with 23-24 amino acids encoded by exon 1, 57-58 amino acids by exon 2, 34-36 amino acids by exon 3 and 16-17 amino acids by exon 4 [17, 18]. The length of intron 1 in human FABP3, FABP8 and FABP2 differs considerably, at 3.4, 2.3 and 1.2 kilobases (kb), respectively [13, 15, 19]. The conservation of gene structure is also maintained in other members of the iLBP family, where the genes encoding CRABPs and cellular retinol-binding proteins (CRBPs) all contain four exons and three introns, although the average lengths of introns are significantly longer than those of FABP genes [20, 21]. Additionally, FABP genes contain the canonical TATA box upstream of the transcription start site [6]. For example, the TATA box sequence of FABP4 (5'-TTTAAAA-3') is located 32 nucleotides upstream of the TCA transcription start site [22].
All FABPs share a conserved three-element fingerprint domain, separated by motifs termed FATTYACIDBP1-3 (Kyoto Encyclopedia of Genes and Genomes, PRINTS: PR00178). Motif 1 contains a G-x-W triplet, which is involved in the initial formation of β-strand A (βA) and is homologous with a similar motif in another small hydrophobic ligand-binding protein family, the lipocalins [1, 23]. Motif 2 contains strands 4 and 5 (βD-βE) and motif 3 spans strands 9 and 10 (βI-βJ). Each motif is outlined in Figure 1. Potential functional domains of FABPs include those found in the FABP4 gene, which has a nuclear localisation signal, nuclear export site and hormone-sensitive lipase (HSL)-binding site [24–26].
Chromosomal mapping of
FABP
family members has shown both dispersion and synteny, as demonstrated in Table
1
.
FABP1
-
3, 6
and
7
all exist on separate chromosomes in the human, whereas
FABP4, 5, 8
and
9
all co-localise at chromosome (Chr) 8q21. A more detailed analysis within the chromosome containing these genes reveals clustering within a 300,000-base pair (bp) region [
18
]. In this same region, prediction programs identified an additional gene homologous to
FABP8
. It has since been cloned and named as the tenth member of the human
FABP
family,
FABP12
[
18
]. In addition to protein-coding
FABP
s, pseudogenes for
FABP3
and
FABP5
have been identified and do not code for functional proteins in humans [
27
,
28
]. A list of known
FABP
pseudogenes to date is provided in the Human Gene Nomenclature Committee (HGNC) database (
http://www.genenames.org
).
Table 1
Human FABP genes, as listed in the Human Gene Nomenclature Committee (HGNC) and Online Mendelian Inheritance in Man (OMIM) databases
Gene

Common

name

Aliases for proteins

Previous

symbols

Localisation

Chromosomal

location

OMIM

ID/

HGNC

ID

Number

of amino

acids

FABP1

Liver FABP

L-FABP, hepatic FABP, Z

protein, heme-binding

protein

Liver, intestine, pancreas,

kidney, lung, stomach

2p11

134650/

3555

127

FABP2

Intestinal

FABP

I-FABP, gut FABP (gFABP)

Intestine, liver

4q28-q31

134640/

3556

132

FABP3

Heart

FABP

H-FABP, O-FABP,

mammary-derived growth

inhibitor (MDGI)

FABP11

Cardiac and skeletal muscle,

brain, kidney, lung, stomach,

testis, adrenal gland,

mammary gland, placenta,

ovary, brown adipose tissue

1p33-p31

134650/

3557

133

FABP4

Adipocyte

FABP

A-FABP, aP2

Adipocytes, macrophages,

dendritic cells, skeletal

muscle fibres

8q21

600434/

3559

132

FABP5

Epidermal

FABP

E-FABP, keratinocyte-type

FABP (KFABP),

psoriasis-associated-FABP

(PA-FABP)

Skin, tongue, adipocyte,

macrophage, dendritic cells,

mammary gland, brain,

stomach, intestine, kidney,

liver, lung, heart, skeletal

muscle, testis, retina, lens,

spleen, placenta

8q21.13

605168/

3560

135

FABP6

Ileal FABP

Il-FABP, Ileal lipid-binding

protein (ILLBP), intestinal

bile acid-binding protein

(I-BABP), gastrophin

Ileum, ovary, adrenal gland,

stomach

5q23-q35

600422/

3561

128

FABP7

Brain FABP

B-FABP, brain lipid-binding

protein (BLBP), MRG

Brain, central nervous

system (CNS), glial cell,

retina, mammary gland

6q22-q23

602965/

3562

132

FABP8

Myelin

FABP

M-FABP, peripheral myelin

protein 2 (PMP2)

Peripheral nervous system,

Schwann cells

8q21.3-q22.1

170715/

9117

132

FABP9

Testis FABP

T-FABP, testis lipid-binding

protein (TLBP), PERF,

PERF 15

Testis, salivary gland,

mammary gland

8q21.13

--/3563

132

FABP12

---

---

Retinoblastoma cell,a retina

(ganglion and inner nuclear

layer cells),b testicular germ

cells,b cerebral cortex,b

kidney,b epididymisb

8q21.13

--/34524

140
Evolution of FABPs
It has been well established that significant structural homology between the members of family FABP exist, not only between human isoforms but between other species as well. This is highly suggestive of duplication and divergence from a single ancestral lipid-binding gene. FABPs belong to a larger family of iLBPs that also contain the CRABPs and CRBPs [29]. The iLPB family is divided into four subfamilies based on the types of ligands to which they bind [5]. The first subfamily binds vitamin A derivatives and contains the CRABPs and CRBPs. Subfamily II includes FABP1 and FABP6, binding bulkier hydrophobic groups such as bile acids (BAs), heme and acyl-CoA. The third subfamily includes FABP2, which exclusively binds LCFA. The fourth, and largest, subfamily includes FABP3, FABP4, FABP5, FABP7, FABP8 and FABP9, which bind a variety of ligands including LCFA, eiscosanoids and retinoids. The iLBP family is also part of a superfamily of lipophilic ligand-binding proteins which are widely expressed throughout the animal kingdom, the calycins [30]. Other members of the calycin superfamily include the avidins and the lipocalins [23, 30, 31]. Interestingly, the homology between these family members is relatively low (≤ 10 per cent amino acid identity), yet they still share the characteristic β-barrel tertiary structure [30, 32]. iLBPs are found in both vertebrates and invertebrates throughout the animal kingdom [32].
The phylogenesis of human FABPs is summarised as a dendrogram in Figure
2
, demonstrating the divergence of the primary sequences over time. It has been estimated that the iLBP family evolved approximately 1,000 million years ago (MYA) by subsequent duplications of a single ancestral gene, further propagating the increasing number of tissue-specific homologues that we know today [
33
]. Homology searches between either ancestral
iLBP
genes or present-day
iLBP
sequences have demonstrated the absence of this family in yeast (
Saccharomyces cerevisiae
) and plant (
Arabidopsis thaliana
) genomes, thus confining this family to the animal kingdom. This further suggests evidence for emergence of the ancestral
iLBP
gene post-divergence of animals from plants and fungi (1,200-1,000 MYA) [
32
]. The evolutionary rates of iLBP members have been estimated using the average distance between mammalian orthologues (rodents, man, rabbit, cow and pig), indicating that the amino acid substitution rate within the family differs widely (0.016-1.24 amino acid substitutions per amino acid site per billion years) [
32
]. The amino acid substitution rate for the FABP family ranges from 0.60-1.24. Earlier analyses of the evolutionary relatedness of proteins within the FABP family showed similarity, while identifying the positions of at least 14 gene duplications [
20
,
34
]. In addition, an index of evolutionary conservation between the family averages 1.16, with CRABP being the most highly conserved proteins in the iLBP family [
32
].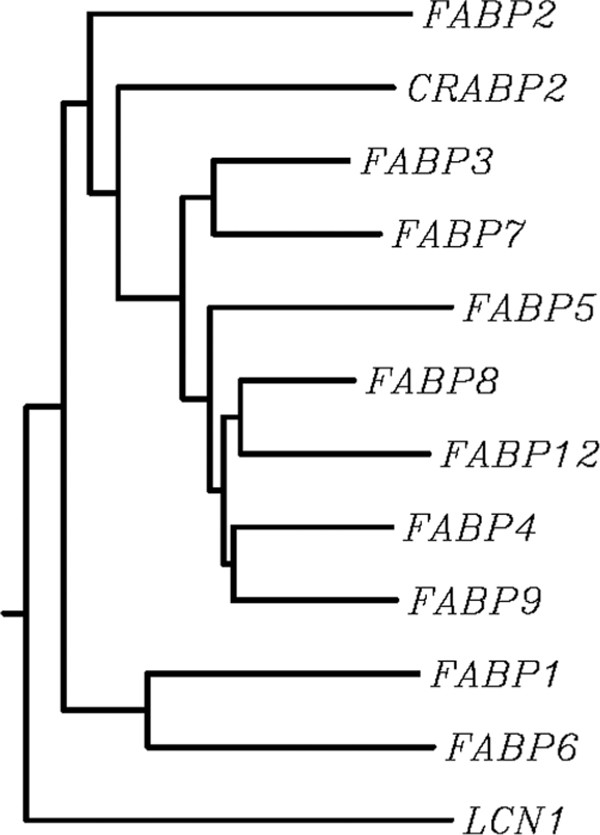 The human FABPgene family
As mentioned previously, FABPs are ubiquitously expressed but differ in stoichiometry, affinity and specificity toward ligands. Expression of these proteins is mostly regulated at the transcriptional level, due to resulting synergistic interactions at conserved motifs within gene promoters [6, 35]. Multiple cis-acting regulatory elements in the 5'-flanking region of these genes and trans-acting nuclear factors that either activate or repress transcription have been identified, and will be discussed separately for each FABP gene in the following sections of this review. Often, the expression of FABPs in a tissue directly reflects its lipid-metabolising capacity; that is, in hepatocytes, adipocytes and car-diomyocytes, FABPs make up 1-5 per cent of all soluble cytosolic proteins, due to the high concentration of FAs used for lipid biosynthesis, storage and metabolism [36]. In other tissues, less involved in active lipid metabolism, FABPs are not as highly expressed.
Numerous functions have been proposed for FABPs. Their presence in the cell is essential for the binding of hydrophobic molecules, reducing the detergent-like properties of high FA concentrations and making them more soluble. Additionally, FABPs traffic these ligands to various cellular compartments for storage, oxidation, membrane synthesis, signalling and activation of nuclear receptors. It has been demonstrated that FABPs can target FA to transcription factors such as the peroxisome proliferator-activated receptor (PPAR) family in the lumen of the nucleus, where the FABP1, FABP3, FABP4 and FABP5 genes are all regulated by PPARs via activation from FA or other ligands [37, 38]. Many FABPs interact physically with phospholipid-rich membranes and other proteins for ligand transfer. For example, L-FABP interacts with membranes, the mitochondrial protein carnitine palmitoyl transferase 1 and transcription factors (PPARα) [7, 39, 40]. Additionally, FABPs also bind eicosanoid intermediates and protect these substrates against peroxidation, suggesting antioxidant-type behaviour [41, 42]. This further suggests that, in addition to the general binding and trafficking functions of FABPs, they must have diverse and highly specified roles in regulating the metabolism and actions of the ligands they bind.
Conclusions
The FABP gene family embodies a group of diverse proteins which participate in a spectrum of tissue-specific pathways involved in lipid homeostasis. To date, nine putatively functional protein-coding FABP genes have been identified in humans. A newer member of the family, FABP12, has been less studied. The evolutionary conservation of these genes suggests that FABPs have diverse and highly specified roles in regulating the metabolism and actions of the ligands they bind. As we understand these functions more clearly, FABPs will be highlighted as important targets for drug development and therapy for many metabolic diseases.
Declarations
Acknowledgements
This work was supported in part by Grants NIH/NIAAA R37AA09300, NIH/NIAAA R01 DK074487-01 and NIH/NIAAA NRSA (RLS) 5 F31 AA018898-02.
Authors' Affiliations
(1)
Molecular Toxicology and Environmental Health Sciences Program, Department of Pharmaceutical Sciences, University of Colorado Denver, Aurora, USA
Copyright
© Henry Stewart Publications 2011