Primary Research
Open Access
Inferring clonal structure in HTLV-1-infected individuals: towards bridging the gap between analysis and visualization
Received: 4 June 2017
Accepted: 5 July 2017
Published: 11 July 2017
Abstract
Background
Human T cell leukemia virus type 1 (HTLV-1) causes adult T cell leukemia (ATL) in a proportion of infected individuals after a long latency period. Development of ATL is a multistep clonal process that can be investigated by monitoring the clonal expansion of HTLV-1-infected cells by isolation of provirus integration sites. The clonal composition (size, number, and combinations of clones) during the latency period in a given infected individual has not been clearly elucidated.
Methods
We used high-throughput sequencing technology coupled with a tag system for isolating integration sites and measuring clone sizes from 60 clinical samples. We assessed the role of clonality and clone size dynamics in ATL onset by modeling data from high-throughput monitoring of HTLV-1 integration sites using single- and multiple-time-point samples.
Results
From four size categories analyzed, we found that big clones (B; 513–2048 infected cells) and very big clones (VB; >2048 infected cells) had prognostic value. No sample harbored two or more VB clones or three or more B clones. We examined the role of clone size, clone combination, and the number of integration sites in the prognosis of infected individuals. We found a moderate reverse correlation between the total number of clones and the size of the largest clone. We devised a data-driven model that allows intuitive representation of clonal composition.
Conclusions
This integration site-based clonality tree model represents the complexity of clonality and provides a global view of clonality data that facilitates the analysis, interpretation, understanding, and visualization of the behavior of clones on inter- and intra-individual scales. It is fully data-driven, intuitively depicts the clonality patterns of HTLV-1-infected individuals and can assist in early risk assessment of ATL onset by reflecting the prognosis of infected individuals. This model should assist in assimilating information on clonal composition and understanding clonal expansion in HTLV-1-infected individuals.
Keywords
Data-driven modelingAdult T cell leukemiaHuman T cell leukemia virus type 1Integration siteClonal expansionHigh-throughput sequencingPrognostic indicator
Introduction
Clonal expansion in neoplasms is accepted as a general feature of a broad range of tumors and has been addressed from different perspectives [1–5]. Detecting clones, especially in the tumor's early appearance, and determining the factors that affect those clones should soon have a substantial role in early diagnosis and early therapeutic intervention [3]. Monitoring the clonal expansion of most malignancies is feasible based on the analysis of genetic abnormalities within progressing and/or already developed stages; however, tracking early events has proven challenging [6]. Similar to other types of cancer, clonal expansion of abnormal cells is a hallmark of adult T cell leukemia-lymphoma (ATL), an aggressive T cell malignancy [7]. ATL is a unique neoplasm that is directly caused by infection with human T cell leukemia virus type 1 (HTLV-1) and manifests after a long latency period [8–11]. The course of disease can be monitored from early asymptomatic stages of infection to the final stages of fully developed malignancy [12]. The HTLV-1 integration site, i.e., the position at which the provirus inserted into the host genome, defines individual virus-infected cells and can be used as a marker to characterize ATL clones, as well as to monitor the clonal composition of infected individuals [13–17]. Each host cell has a unique and single integration site [18], and a population of cells with the same integration site originated from the same ancestor cell and is considered a clone [14, 15]. The clonal composition of HTLV-1-infected individuals has been investigated by a broad range of methods, including Southern blotting [7, 13], inverse PCR [16, 19–21] and linker-mediated PCR [22, 23]. Recently, by taking advantage of next-generation sequencing (NGS) technology, researchers have devised two main methods, shear sites [14] and tag systems [15], for high-throughput analysis of clonality based on provirus integration sites. These methods enable an improved understanding of genome-wide integration sites and open up new avenues to quantify clone sizes [14, 15, 20, 24–27]. In this study, we used the data derived from the tag system, which measures clone sizes without using statistical estimations [15].
In the clinical setting, the vast amounts of data rapidly generated by NGS technologies require efficient and accurate processing, analysis, management, interpretation, visualization, and conversion to useful knowledge for rendering more accurate patient outcomes [28]. In response to this demand, interdisciplinary approaches, such as the development of mathematical models in medical research, have been successfully applied over recent years. Mathematical and computational models have invaluable potential to increase the understanding of tumor development and hold promise to suggest new ways to improve the efficacy of therapeutic interventions [4, 29, 30]. To extract reliable fundamental meaning from a mathematical model and strengthen its predictive power, real experimental data must be introduced [31, 32]. Unlike other types of malignancies for which broad ranges of mathematical models are available [33], to our knowledge, there are few mathematical models for ATL [34–41], and only one visual model illustrating clonal expansion [27]. However, access to NGS data and the ability to retrieve clone size and integration site information have provided new opportunities to model clonal expansion in ATL. We recently quantified ATL clones, defined clonality patterns and categorized observed clones using threshold criteria based on clone size [27]. The conventionally described polyclonal, oligoclonal and monoclonal patterns [13, 19] can be intuitively reflected by combinations of very small, small, big, and very big (VS, S, B, and VB) clone sizes using these categorizing criteria [27]. Moreover, we showed that clone size can be a risk indicator for development and progression of ATL. Among asymptomatic carriers (ACs), individuals with polyclonal patterns remain as ACs over time, whereas those with atypical patterns of monoclonal or oligoclonal (VB or B) clones exhibited disease progression [42].
Tree theory belongs to discrete mathematics [
43
,
44
] and can handle the simple representation of biological data and can be used for effective data organization. Tree theory provides informative and graphical representation of concepts to readily illustrate similarities and relationships and to improve the comparison of results across samples [
45
]. In the present study, we developed a hierarchical tree model using both cross-sectional and longitudinal data of HTLV-1 clonal expansion. Our main goals were to display the relationship between the size and combination of clones and to visualize biological information hidden in clonality data derived from HTLV-1-infected individuals. Figure
1
illustrates a general overview of our study for representing the clonal status of each patient via hierarchical tree structures. The development of a simple model based on observed clonality data should lead to a deeper understanding of ATL clonal expansion and should enable prediction of the prognosis of infected individuals.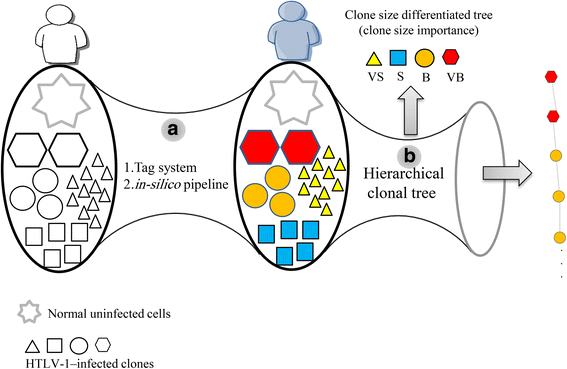 Methods
In total, 60 clinical samples from 29 individuals were used, including 9 cross-sectional samples [27], 4 longitudinal samples, and 47 longitudinal samples described in [20] and [42], respectively. All clinical materials were collected by the Joint Study on Predisposing Factors of ATL Development (JSPFAD) [46, 47]. HTLV-1-infected individuals were diagnosed based on the Shimoyama criteria [48]. All sample information is provided in Additional file 1: Table S1.
Across all samples, a tag system was used to isolate integration sites and measure clone sizes. All details for experimental design and protocols are provided in [15]. In brief, BLAST searches against the HTLV-1 long terminal repeat were used to detect viral integration sites [49]. Human DNA regions flanking the integration sites were identified by alignment against hg19 using Bowtie [50]. The quality of sequencing outputs was checked with the FastQC tool [51]. Information regarding sequencing outputs and read quality is provided in Additional file 2: Figure S1. Two million mapped reads were used to measure clone sizes. We categorized observed clone sizes into four distinct groups: very small (VS, 1–128 cells), small (S, 129–512 cells), big (B, 513–2048 cells), and very big (VB, >2048 cells) [27]. We used the ordered m-ary tree to visualize the observed data. For a detailed explanation, see Additional file 2: Figure S2.
Discussion
Cancer is a complex disease characterized by many different traits, making it an ideal target for various modeling approaches [28]. Well-designed visualization models can transform raw data into logically structured and visually informative representations capable of revealing patterns and structures that otherwise remain hidden [45]. Motivated by the increased availability of NGS data on clonality, we focused on the problem of constructing a progression model of ATL. Development of such progression models is very important for predicting prognosis and, hence, for timely therapeutic decision-making. We focused on clonal expansion as a hallmark of ATL and provide an overall picture of clonality using intra- and inter-sample clinical data.
HTLV-1-infected individuals have an about 3–5% lifetime risk of developing ATL [
11
]. Currently, there is no established method to clearly predict the risk of progression to ATL. The current risk indicator is PVL; however, individual patient prognosis based on PVL alone is difficult because the range of PVLs among patients with disease overlaps that of patients who remain lifelong ACs [
52
–
54
]. Therefore, additional prognosis indicators are required. It is known that clonal proliferation of infected cells is primarily responsible for maintaining the PVL of HTLV-1 [
55
]. Thus, investigating the clonal composition of HTLV-1-infected individuals as a potential risk indicator of ATL would be of great clinical and biological significance. Understanding how clonal expansion occurs could be used as a key factor in finding effective ways for early detection of ATL, enabling more timely and precise treatment. To address this problem, we converted complex clonal expansion data into a manageable model of relationships among a set of clones that incorporates the characteristics of clone sizes, clone order, and disease progression over time. Using this approach, we were able to provide answers to several important questions [
12
,
26
,
56
,
57
]:
1.

What is the role of clone size and combinations in ATL progression?
Only ACs with B or VB clones progressed to ATL [
42
]. Samples with a single B or VB clone had worse prognoses than those with two or more, and thus, their paths were located toward the right of the proposed model. All individuals who progressed to higher states of ATL harbored B and/or VB clones. The presence of VB and B clones, as well as small numbers of S and VS clones might be of prognostic value. (Figs.
5
and
6
, Additional file
2
: Table S2, Fig.
7
).
2.

How many distinct HTLV-1+ clones of various sizes are detectable from a single host?
We detected a maximum of two VB clones, three B clones, a small numbers of S clones, and a large number of VS clones.
3.

What is the relationship between clonal composition and the risk of ATL onset?
Based on the observed clonality data and clinical status of each individual, we ordered the observed trees of each sample and proposed a global tree model. Samples for which trees were located at the left side of the global tree had less risk of disease development, whereas those located at the right side had higher risks (Fig. 7).
Our longitudinal data provided further direct evidence that HTLV-1 can be integrated and persist in humans for years. We also confirmed that each HTLV-1-infected individual carries a large number of infected clones of different sizes. S and VS clones were much more numerous than B and VB clones. We showed that selective clonal expansion or survival of certain transduced or infected cell clones is a limited occurrence, as no more than two VB clones and three B clones was detected in any individual. Moreover, only certain clones that were already dominant (B/VB) at a non-malignant state gave rise to dominant clones during the malignant disease. None of the samples with only S and VS clones belonged to patients who developed ATL over time. Thus, consistent with what we have reported previously [42], the clonality of HTLV-1-infected cells could be a useful predictive marker of ATL onset and progression.
Combining biological experimental data with computational analysis and mathematical modeling facilitates quantification and accurate description of biological phenomena. Using simpler mathematics is recommended to improve communication with experimental biologists [58]. In general, understanding analytical deviations, complicated mathematical equations and formalisms is difficult for the average biologist. It has been suggested that a large number of equations in a paper is associated with a reduced impact of the study among biologists [58, 59]. Therefore, strong and complicated technical presentation of mathematical models may reduce their impact and comprehension among biologists. Moreover, avoiding an overdependence on theory and integrating experimental data are important and appropriate strategies that enhance the effectiveness of models [32]. Bridging analysis and visualization of data—particularly omics data—not only facilitates the presentation of information but also may uncover unknown concepts, conclusions, and insights about the results.
The model of ATL clonal expansion presented here permits investigation of the impact of clonal expansion and related parameters on the risk of ATL development by offering a new understanding of how clonality patterns contribute to disease progression. This easy-to-understand model is an appropriate data-driven model for ATL clonality because it uses real biological data without theoretical assumptions and relies on a small number of variables and a simple set of relationships to explain the clonality status of samples.
Conclusions
Here, we used tree-based structures to show clonality patterns and to display the importance of clone size and clonal composition in ATL development. This integration site-based clonality tree model (1) has both descriptive and prognostic capacities, (2) provides clear visualization of the results, (3) uses simple mathematics, and (4) is fully data-driven and is not dependent on theoretical assumptions. The proposed hierarchical tree model will be useful for organizing and summarizing a mechanistic understanding of observed results and for providing significant insights into clonal history based on the integration sites of HTLV-1-infected cells. To our knowledge, this is the first model that enables the prediction of prognosis among infected individuals based on clonality information (clone size and dynamics of clones). Designing a scoring system for representing the clonal expansion process and implementing a user-friendly software tool for clinical applications are of high interest for future studies.
Abbreviations
AC:

Asymptomatic carrier
ATL:

Adult T cell leukemia
B:

Big
HTLV-1:

Human T cell leukemia virus type 1
JSPFAD:

Joint Study on Predisposing Factors of ATL Development
NGS:

Next-generation sequencing
PVL:

Proviral load
S:

Small
SM:

Smoldering
VB:

Very big
VS:

Very small
Declarations
Acknowledgements
AF expresses deep respect and gratitude to the Otsuka Toshimi Scholarship Foundation for supporting his graduate studies. We gratefully appreciate Y. Suzuki for his supports in sequencing of samples, K. Abe, K. Imamura, Y. Ishikawa, T. Horiuchi, and Y. Kuze for technical support; H. Farmanbar for mathematics advice; and U. Firouzi for help with the design of figures.
Computational analyses were provided by the Super Computer System at the Human Genome Center, Institute of Medical Science, University of Tokyo. We appreciate the technical assistance of H. Nishijima.
Funding
This work was supported by Kakenhi grants of the Japan Society for the Promotion of Science (JSPS) (17K15044, 16H06277, and 16H05248) and grants by Japan Agency for Medical Research and Development (AMED) (17fk0108112h0001)).
Authors' contributions
The first two authors (AF and SF) contributed equally. AF and SF conceived the project, designed and carried out the experiments, performed in silico data analysis, and interpreted the data. AF performed modeling of observed data. AF and SF designed the figures and wrote the initial manuscript. WM contributed in interpretation of data and writing the manuscript. MI, KU, and AU contributed to the medical data interpretation and sample collection. TW contributed to interpretation of medical and biological data. KN supervised the study and assisted writing the manuscript. All authors assisted in critically revising the manuscript and have read and approved the final manuscript.
Ethics approval and consent to participate
The project was approved by the research ethics committee of the University of Tokyo (approval nos. 10-50 and 14-155).
Competing interests
The authors declare that they have no competing interests.
Publisher's Note
Springer Nature remains neutral with regard to jurisdictional claims in published maps and institutional affiliations.
Open AccessThis article is distributed under the terms of the Creative Commons Attribution 4.0 International License (http://creativecommons.org/licenses/by/4.0/), which permits unrestricted use, distribution, and reproduction in any medium, provided you give appropriate credit to the original author(s) and the source, provide a link to the Creative Commons license, and indicate if changes were made. The Creative Commons Public Domain Dedication waiver (http://creativecommons.org/publicdomain/zero/1.0/) applies to the data made available in this article, unless otherwise stated.
Authors' Affiliations
(1)
Department of Computational Biology and Medical Sciences, Graduate School of Frontier Sciences, The University of Tokyo, Kashiwa-shi, Japan
(2)
Laboratory of Functional Analysis in silico, Human Genome Center, The Institute of Medical Science, The University of Tokyo, Tokyo, Japan
(3)
Institute of Bioinformatics, Faculty of Medicine, University of Muenster, Muenster, Germany
(4)
Department of Frontier Life Science, Graduate School of Biomedical Sciences, Nagasaki University, Nagasaki, Japan
(5)
Department of Hematology, Imamura General Hospital, Kagoshima, Japan
(6)
Department of Advanced Medical Innovation, St. Marianna University Graduate School of Medicine, Kanagawa, Japan